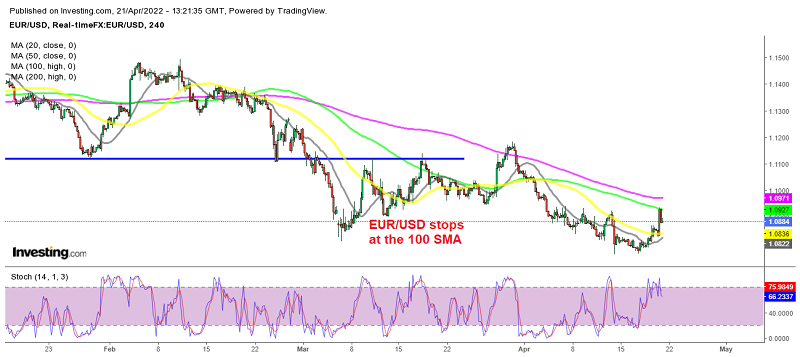 Selling EUR/USD After the Jump on ECB Rate Hike Talk
EUR/USD has been bearish since it reversed lower at the beginning of last summer, as CPI inflation moved above 5%, forcing the FED to finally accept that it was getting out of control. Inflation has surged to 8.5% YoY and the Federal Reserve is getting increasingly agitated. They increased interest rates by 0.25% in the last meeting and are expected to hike them several times this year by 0.50%.
This has helped turn the USD quite bullish, sending EUR/USD down to 1.0860 earlier this week. Although we saw a jump today which took the price to 1.0935, where buyers met the 100 SMA (green) on the H4 chart. The euro got a boost from Kazaks' remarks yesterday and a further nudge higher today following de Guindos' comments.
Both are hinting at a possibility of a July rate hike but that is still three months away and that is a long time in the central bank world. Add that to the fact that the ECB prefers to want flexibility more than anything else, it's weird to think that Lagarde would pre-commit to anything at this point in time as she mentioned below. So, we decided to open a sell forex signal in EUR/USD .
Remarks by ECB president, Christine Lagarde
The policy will depend on incoming data
Ample policy support remains in place
Sees further inflation pressure from supply bottlenecks
Not really giving much away here with these remarks but they also don't really take away from the more hawkish comments from Kazaks and de Guindos so far this week. Just a heads up, Lagarde will be speaking later in the day alongside Powell in a panel discussion.
Latest data released by Eurostat – 21 April 2022
March final CPI YoY +7.4% vs +7.5% prelim
Core CPI YoY +2.9% vs +3.0% prelim
A slightly lower revision but euro area inflation continues to keep at a record, rising 2.4% on the month. I think from hereon, amid 'peak inflation' talk, the focus will slowly switch towards the month-on-month numbers. That may be more relevant as whether inflation is at 6% or 7% doesn't really make that much of a difference. The fact is that it is well above the 2% target set out by central banks in either case.
ECB's de Guindos Speaking
A rate hike is possible in July, will depend on the data
No reason why APP purchases can't end in July
Euro area inflation is close to its peak, will slow in 2H 2022
That adds to the more hawkish remarks from Kazaks yesterday. Money markets are now pricing in three 0.25% rate hikes by the ECB this year. Even though we are getting more hawkish undertones, it is still doubtful that the ECB will act more aggressively but we'll see if more policymakers will come out to prove that notion wrong.