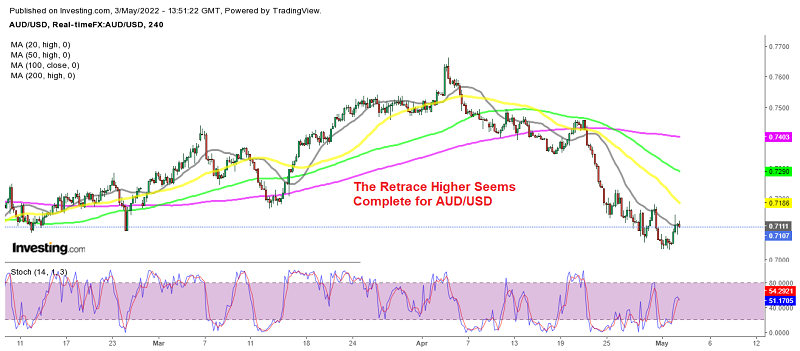 Selling the Jump in AUD/USD After the RBA Rate Hike
Central banks have turned hawkish as inflation keeps surging everywhere apart from China and Japan, reaching previously unseen levels as it increases above 8%. Although, it will be difficult for central banks to fight inflation because it has come from a spike in prices from main suppliers. So, tightening the monetary policy won't help in reducing prices as long as producers of goods keep increasing them.
Nonetheless, central banks have embarked on a rate hike boat, planning many hikes this year. The Reserve Bank of Australia was among the last of the major banks to do so, as they increased rates by 25 bps from 0.10% to 0.35%, against a 15 bps expected.
That sent the AUD around 100 pips higher, but we decided to sell the jump in AUD/USD as the sentiment remains negative for commodity currencies due to the economic contraction in China which has come from the lockdowns. This pair has been finding resistance at the 20 SMA (gray) on the H4 chart, so the downtrend should resume again soon.
Monetary Policy Decision by the RBA – 3 May 2022
a
RBA raises cash rate by 25 bps to 0.35%
Prior rate decision was 0.10%
Also increased interest rate on Exchange Settlement balances from 0% to 0.25%
Now was the right time to begin withdrawing stimulus
Outlook for economic growth remains positive
Inflation has picked up significantly and by more than expected
A further rise in inflation is expected in the near-term
But as supply-side disruptions are resolved, inflation is expected to decline back towards the target range of 2% to 3%
RBA committed to doing what is necessary to ensure that inflation returns to target over time
This will require a further lift in interest rates over the period ahead
To closely monitor future developments to determine the timing and extent of future rate hikes
This is like a bit of a Goldilocks decision by the RBA as they do give out a more hawkish undertone by hiking by 25 bps, instead of the 15 bps as expected. A 40 bps rate hike might have been the more aggressive approach but they are seemingly taking a more modest touch with this, and to be fair it is one that will not spook markets too much.
That said, the central bank does see inflation hitting 6% this year. Besides that, it is interesting to note that the RBA says that it does not intend to sell the government bonds purchased during the pandemic.
RBA Chairman Lowe Press Conference
Expects that further rate hikes will be necessary in the months ahead
Economy has been very resilient
Inflation has picked up more quickly than expected
Evidence is that labour costs are increasing more quickly
Not on a preset path on policy and will be guided by the evidence and data
RBA will be flexible, responsive to changing circumstances
Expect a further increase in inflation
Central forecast, which assumes further rate hikes, is inflation will decline to 3% in 2024
This isn't anything out of the ordinary after the decision to increase the cash rate by 25 bps earlier. As mentioned then, it is a cheeky move by the RBA and with Lowe touting flexibility, it still creates some indecision about how much more aggressive the RBA will be in the months ahead.