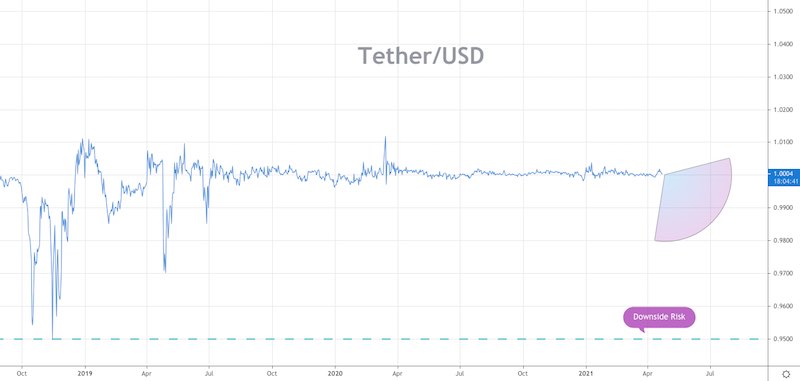 Tether (USDT) Gets a Trade Volume Boost as Transparency Improves
Today, Tether (USDT) is holding at $1 (USDT/USD), which is not unusual for this stablecoin since it is linked to the US dollar and designed to have a steady rate. What is significant this morning is that the trade volume is up 45%, bringing its 24-hour trade to $101,320,510,649.39 in US dollars.
Tether Is Becoming More Transparent
There was some controversy over this stablecoin for years about the way Tether's holdings are represented by US dollars and other kinds of currency. There have been questions about whether all of Tether's coins were backed by US dollars or of some of them were in other types of commodities.
The controversy has died down considerably in recent months, especially after a federal government inquiry determined where Tether's holding truly were. It was revealed that some of them are in bonds and various other kinds of commodities and that US dollars actually make up a small amount of the total backing.
The Tether chief technology officer, Paolo Ardiono, spoke recently at a Blockchain summit in Paris about the company's transparency. He said, "Over time we will keep reducing the commercial paper, we aren't finished yet with the reduction." This follows reports that the company was buying up commercial paper last year, and that creates a form of short-term debt for them.
The issue was raised that Tether has not revealed which companies it has commercial paper with. According to Ardiono, a lot for that commercial paper has been moved to the US Treasury. The company is shifting toward greater transparency now, and that is one of their leading goals, as it helps them grow and maintain consumer trust.
Is Tether a Sound Investment?
The USDT token has proven to be a rock of reliability in a vast and volatile crypto market. Tether has more than $83 billion in market capitalization, making it one of the leading crypto tokens, even if it isn't a conventional crypto token like Bitcoin where the rates are subject to major change from day to day. That stability makes Tether very popular among investors who want to store their crypto coins somewhere, like in instances where the market becomes really volatile or when there is a downturn. They know that the USDT rate is not likely to change much, and they can keep their DeFi dollars there until the market settles without the need to cash out.
Don't expect to be able to use Tether as a way to grow your investment. When the rate changes, it is only incrementally, often by a few cents at most. Tether acts as a go-between for other decentralized currencies and helps to keep the market fluid, which makes it very useful.