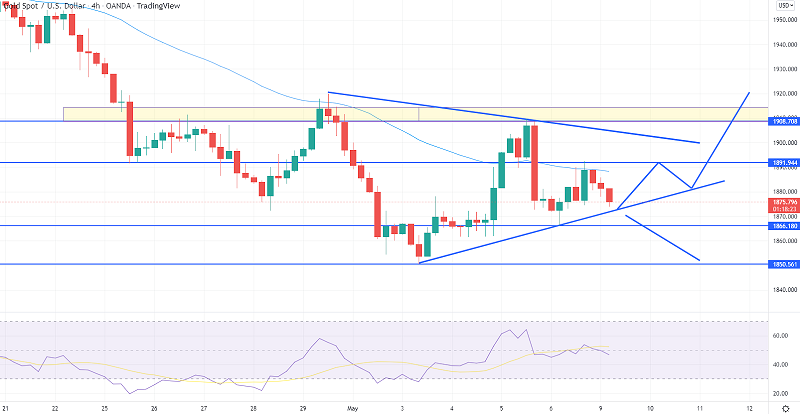 Gold Stays Under to $1900, Fed Rate Hike in Play
Gold is down 0.17 percent at $1,880.40 at the open on Monday, having fallen from a high of $1,885.85 to a low of $1,879.93 as the bears re-enter with a focus on last week's lows of $1,850.47. COVID-19 outbreaks in China have lowered the risk sentiment at the start of the week. According to Reuters, Shanghai is tightening its strict COVID-19 lockdown in a new push to eliminate infections outside China's largest city by late this month.
Traders are waiting for more data from the Middle Kingdom, which is expected to show a further slowing in export growth and weakness in imports, even though most provinces are under some form of restriction and Shanghai is closed for the entire month.
"China's top leaders have warned against questioning Xi Jinping's covid-zero strategy as pressure mounts to ease virus curbs," according to ANZ analysts. "This comes as the market contends with headwinds such as a stronger USD and a bond selloff as the US Federal Reserve tightens monetary policy." These same concerns weighed on gold prices, which fell for the third week in a row," the analysts added.
"With additional supply constraints across the base metals complex still a possibility, the recent selloff appears overdone. As a result, Chinese demand is expected to surge once restrictions are lifted, and stimulus measures are expected to boost economic activity."
Major Events in Highlights
In the meantime, aside from today's Chinese trade data, the focus for the coming week will be on US inflation data and Fed speakers. According to TD Securities analysts, core prices likely remained strong in April, regaining momentum to 0.5 percent m/m from 0.3 percent in March. "While used vehicle prices are likely to fall again, they will fall less sharply than in the previous report. We also anticipate renewed strength in housing inflation. Our MoM forecasts imply 8.1 percent /6.1 percent YoY for total/core prices, confirming that March was the cycle's peak."
Following the May meeting, several Fed officials will make public remarks in the coming week. The remarks of New York Fed President John Williams and Governor Christopher Waller will be significant and are expected to shed some light after Fed Chairman Jerome Powell's press conference last week, which failed to provide much clarity on what the Fed will do after frontloading rate hikes until neutral.
Gold (XAU/USD) Technical Outlook
GOLD price tests the $1890.00 level, and as long as the price remains below this level, our bearish outlook will remain valid on an intraday basis, supported by stochastic loss to the positive momentum, waiting for a negative motive to push the price to $1850, which represents our next target.