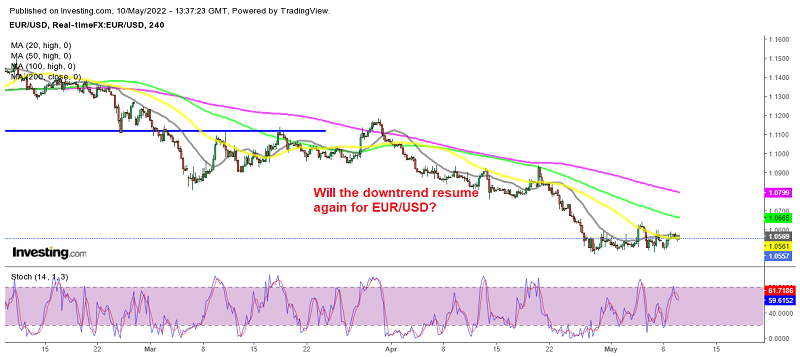 Shorting EUR/USD As Economic Sentiment Continues to Deteriorate in the Eurozone
The economy of the Eurozone was improving in the first two months of 2022, as we left behind the coronavirus restrictions, which improved the optimism. But, the conflict in Ukraine escalated in March and the investor/economic sentiment started deteriorating again.
The economic sentiment indicators fell into negative territory that month and they continue to deteriorate as prices have surged everywhere which will likely erode the buying power of the consumer and slow the economic growth, while energy concerns are a major negative factor as well, with petrol, gas and electricity prices jumping higher. Yesterday we saw the Sentix investor confidence fall further in negative territory, as it missed expectations while today the ZEW economic sentiment
Germany May ZEW Survey
ZEW survey May current conditions -36.5 points vs -35.0 expected
April current conditions -30.8 points
May outlook -34.3 points vs -42.0 expected
April outlook -41.0 points
The drop in the headline reading sees it fall to the weakest since May last year, with ZEW noting that China lockdowns have contributed to the deterioration in the economic situation, weighing on the outlook for the German economy. But compared to the previous month, respondents still see a rather dire outlook but at a lower intensity as compared to the April survey.