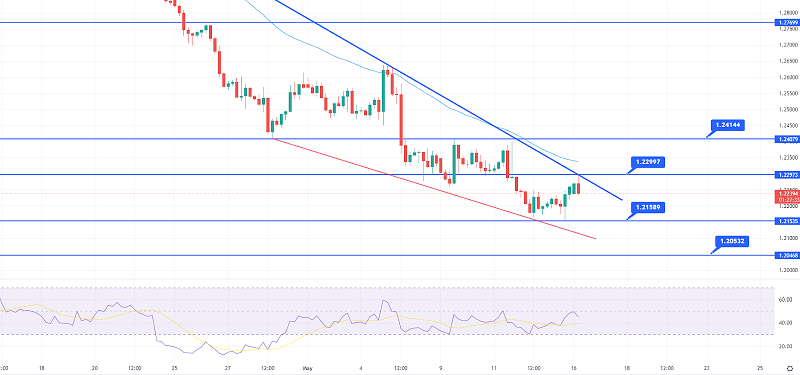 GBP/USD Struggles Below Trendline Resistance $1.2300 – What's Next?
The GBP/USD is trading around 1.2250 at the open and is expected to rise further due to a rebound in risk-sensitive assets on Friday, which is expected to be carried forward on Monday. After a string of bearish days due to back-to-back economic events in the US, the FX domain found solace on Friday.
The announcement of the Federal Reserve's (Fed) interest rate decision, in which the central bank raised its benchmark rates by 50 basis points (bps), followed by upbeat Nonfarm Payrolls (NFP) and higher-than-expected Consumer Price Index (CPI), frightened market participants.
The US agencies reported an increase in total labor force employment of 428k, much higher than the estimated 391k, and US inflation was 8.3 percent, higher than the forecasted 8.1 percent. In addition, the above-expected data from the US economy have increased the likelihood of another jumbo rate hike by the Fed in its June monetary policy. The focus of investors will now shift to US Retail Sales on Tuesday. The preliminary monthly Retail Sales estimate is 0.7 percent.
Sterling remained silent on the underperformance of the Gross Domestic Product (GDP) figures. The quarterly GDP came in at 0.8 percent, lower than the consensus of 1%. Meanwhile, Brexit fears have grown as the European Union (EU) prepares to retaliate after the UK lays the groundwork to unilaterally withdraw from parts of the Northern Ireland Protocol (NIP), according to TD Securities.
Investors are now focusing on the ILO Unemployment Rate, which the UK National Statistics will release on Tuesday. The economic data is expected to remain unchanged at 3.8 percent.
GBP/USD Technical Outlook
The GBP/USD pair has been trading sideways and tight since the morning, and stochastic has been gradually losing positive momentum, implying no change to the bearish trend scenario, which is dependent on price stability below 1.2350, and reminding you that our next main target is 1.2080. Today's trading range is expected to be between 1.2130 support and 1.2290 resistance.
Today's predicted trend: Bearish
Yesterday the Eurozone and particularly the UK services and manufacturing PMI figures improved this month while today we have the US numbers
1 week ago