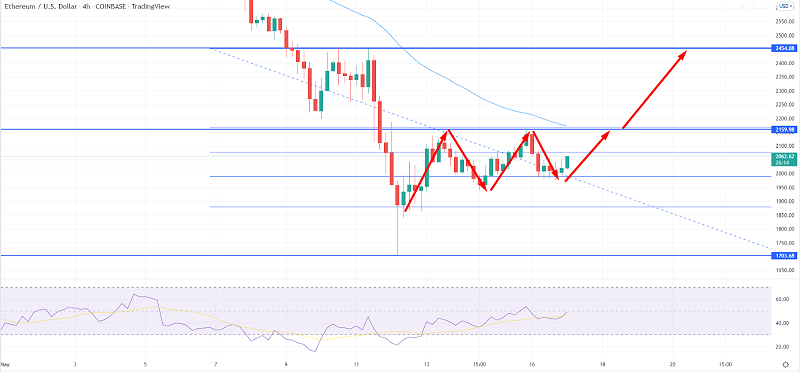 Ethereum Hashrate Spikes to ATH – Quick ETH Outlook
Cryptocurrency has been one of the most profitable ventures for crypto miners, and as more people have flocked to reap the benefits, the hashrate has skyrocketed. The hashrate of Ethereum has recently increased. It has now reached multiple all-time highs in the month of May alone. However, the question remains whether the digital asset's price will perform as well as it has in terms of mining hashrate.
Ethereum Hashrate Has Reached a New High
When it comes to mining, the month of May looks promising for ETHEREUM. After steadily increasing throughout April, the mining hashrate reached a high of 1.1923 PH/s on April 3rd. This was widely celebrated in the market, but it was not complete.
The next few weeks would see new all-time highs being set one after another. It has now reached another ATH two weeks into the month. On May 13th, the Ethereum hashrate had risen to 1.2370 PH/s. This is the highest hashrate ever recorded. It represents a 124 percent increase year over year.
However, Ethereum continues to use a proof of work mechanism, and it is reported that over 80 mining pools are currently providing hashrate for the network. Keep in mind that the hashrate has been increasing as the "Merge" approaches. This enhancement would effectively eliminate the requirement for
High-performance computers must solve complex equations to verify transactions; instead, the network would carry out transactions using a proof of stake mechanism.
How is ETH Faring?
Ethereum has broken through the $2,000 barrier once more. This comes after a long week filled with ups and downs. A difficult victory, but a victory nonetheless. However, it appears to be the only one in terms of trend.
The digital asset's indicators have shown an extremely bearish trend in both the short and long term. Even though it is still trading above $2,000 at writing, it checks all the boxes for a bearish asset, such as trading below the 50 to 200-day moving averages.
Investor sentiment has also shifted entirely to the selling side. For instance, even the 100 – 200-day MACD points to a sell. This demonstrates that the selling pressure on investors is one of the highest it has ever been in recent times.
Nonetheless, ETH holders are doing well in comparison to others. Even though ETH has lost more than half of its all-time high value, most of those who own it are still profiting. It is also worth noting that most of the coins have been kept for more than a year.