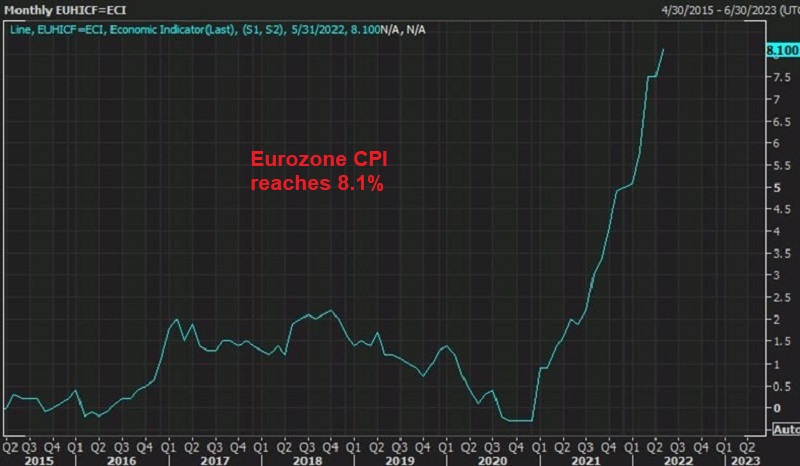 Can EUR/USD Break Above 1.08 As Euro Inflation Keeps Printing New Highs?
Inflation has been increasing for two years since the coronavirus pandemic started, when it should have been in decline. But since March when the conflict in Ukraine started inflation has been surging, as large suppliers of raw materials have benefited from this turmoil and are still increasing prices, which are being transferred to the final consumer and to some degree lowering retailer profits.
Central banks have been increasing interest rates to fight inflation, but without success, since prices have not been surging because of an economic boom. The European Central Bank (ECB) has refrained from hiking rates but they are planning a 50 bps hike in July. Yesterday we saw the German and Spanish CPI inflation figures beat estimates as they kept increasing again this month, so today's inflation numbers from the Eurozone should come above estimates as well.
EUR/USD Daily Chart – Facing 1.08 After Breaking the 50 SMA
Can buyers push above this previous support?
EUR/USD was finding resistance at the 50 SMA (yellow) on the daily chart, but yesterday buyers broke above that moving average, so now they are facing the 1.08 level, which held during the crash earlier this year.
Eurozone May Preliminary CPI Inflation Report
May preliminary CPI YoY +8.1% vs +7.7% expected
Prior CPI YoY +7.4%
Core CPI YoY +3.8% vs +3.5% expected
April core CPI was +3.5%
Inflation in the euro area hits a new record and that continues to heap pressure on the ECB to act while contesting their viewpoint on whether gradual rate increases will be enough to tackle such stubbornly high price growth. The upside surprise here has been well telegraphed by the strong readings from Spain, Germany, and France prior to the release.
As price pressures continue to keep higher, that will present more worries surrounding the economic outlook in the region in the months ahead. In turn, that may very well see the ECB's window to normalise policy become narrower. The euro's fate will depend on the resolve of policymakers in the months ahead.