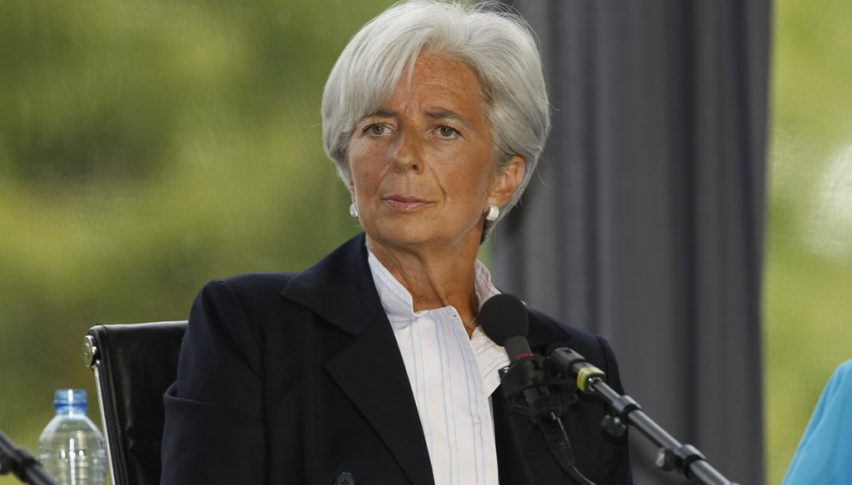 Forex Signals Brief for June 10: Markets Disappointed on 25 BPS Hikes from the ECB
Yesterday's Market Wrap
Yesterday the major event was the meeting of the European Central Bank (ECB) despite no rate hikes planned for this meeting. Many were expecting the ECB to announce 50 bps hikes starting from next month. But Christine Lagarde announced 25 basis points (BPS) rate hikes, wich didn't go well for the Euro, as it reversed lower and ended 150 pips lower against the USD.
Although some of that had to do with the risk sentiment which deteriorated sharply in North American trading. There wasn't a clear reason for that, but Lagarde didn't do anyone any favours in her post-ECB press conference as she repeatedly highlighted fragmentation risks without offering any programs to manage soaring periphery yields. With that, Italian and Greek yields pushed another 15 bps higher, stock markets and risk currencies ended up lower while the USD turned bullish.
The Data Agenda Today
Today is inflation day, with producer inflation PPI reports being released from Japan and China this morning, as well as the Chinese C I consumer price index (CPI). PPI is high in that region of the world, as it is everywhere else, but consumer inflation CPI remains low for some reason. US CPI inflation report will be released later in the North American trading session which is expected to increase further.
Today we opened five signals, four in the forex market and another one in Gold. The forex trades went pretty well as all of them closed in profit, while the Gold trade went on the opposite direction, so we had a quite profitable day nonetheless.
This forex pair has been bullish for two years, although the bullish momentum has picked up pace, with the lows getting higher, as it heads to 2002 highs. smaller moving averages have been acting as support on the H4 chart, which shows the strength of the uptrend. Yesterday the price retreated to the 20 SMA (gray) and we decided to open two buy signals as the price bounced higher.

USD/JPY – 240 minute chart
GOLD – Buy Signal
Gold turned bearish from Early May until the middle of last month as the USD kept surging higher. But, since then the price has been bouncing up and down in a range. Yesterday, my colleague Arslan opened a buy forex signal here at the 100 SMA (green) after it has been providing resistance before, but the 200 SMA kept the price subdued as it provided resistance again.
Gold XAU – 240 minute chart
Cryptocurrency Update
The uncertainty continues in cryptocurrencies, since investors are not certain how far the war on cryptos will go. After the decline about a month ago, cryptocurrencies have been consolidating, although they have been displaying some bullish signals. but those attempts keep failing to turn the market bullish and digital coins remain in a tight range with Bitcoin trading around $30,000.
Shiba Inu – SHIB Getting Squeezed in A Tight Range
Shiba Inu coin went through another crash in early May, after trading in a range from January, although it seems like this cryptocurrency has formed another range lower at around $0.000010.   
SHIB/USD – Daily chart
Can the 50 SMA Hold for Cardano?
ADA/USD has been bearish since September last year when it released the Alonzo upgrade, although it took some time for it to become functional and launch auctions. During this time, moving averages have been acting as resistance on the daily chart, with the 50 SMA (yellow) taking over recently, where we opened a sell signal in Cardano yesterday. But as we approach the release date for the Vasil upgrade, investors are showing interest in the ADA token, so there is a chance that they might push above this moving average.
Buyers gave up at the 20 SMA again
Cryptocurrencies were showing strong bullish pressure in the first two months of 2023, but the bullish momentum has faded
3 weeks ago