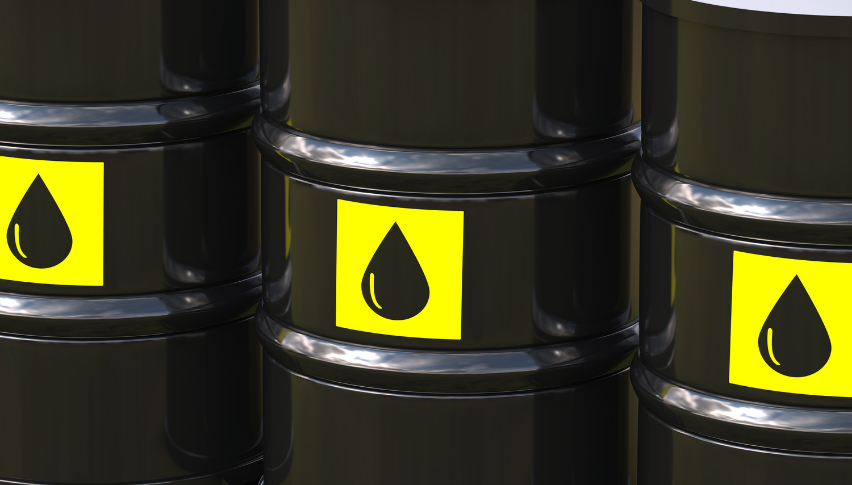 Shorting the Retrace Up in Crude Oil After the Failure at the 50 SMA
At the start of the day, crude Oil looked poised to crack lower as the downside break from yesterday seemed to gather some momentum, and the retrace higher above $107 failed. But now as we look towards US trading, it has been a solid turnaround instead for Oil to turn higher on the day.
It's still a bit early to call this a win for dip buyers just yet but it is encouraging. There is little in terms of headlines to work with for Oil traders this week and the moves have been all about the flows instead. Although, the larger picture still looks bearish after the soft manufacturing and services numbers from Europe today.
US Oil H1 Chart – The 50 SMA Holding As Resistance
Stochastic indicates overbought price at the 50 SMA 
We decided to take a small trade during this retrace higher though. US WTI crude reached $106.70 during the retrace higher today, but the 50 SMA (yellow) provided resistance again, so we decided to open a sell forex signal, with an 80 pip profit target. We are seeing a reversal as I speak, so this trade looks good.
UK June Services and Manufacturing PMI Reports
UK June flash services PMI 53.4 points vs 53.0 expected
May services were 53.4 points
Manufacturing PMI 53.4 points vs 53.7 expected
Prior manufacturing was 54.6 points
Composite PMI 53.1 points vs 52.6 expected
Prior composite 53.1 points
The services and composite readings are unchanged from May but the manufacturing reading did fall further to a 23-month low. Overall, growth conditions are stalling but at least there is some resilience to it. That said, business expectations fell to its weakest since May 2020 with exceptionally strong price pressures still persisting. Of note, businesses said that they saw the need to pass on higher energy, fuel and wage costs to customers.
S&P Global notes:
The economy is starting to look like it is running on empty. Current business growth is being supported by orders placed in prior months as companies report a near-stalling of demand. Manufacturers in particular are struggling with falling orders, especially for exports, and the service sector is already seeing signs of the recent growth spurt from pent-up pandemic demand move into reverse amid the rising cost of living.
"Business confidence has now slumped to a level which has in the past typically signalled an imminent recession. The weakness of the broad flow of economic data so far in the second quarter points to a drop in GDP which the forward-looking PMI numbers suggest will gather momentum in the third quarter.
"While there are some signs that the inflation could soon peak, the survey data suggest the rate of inflation will meanwhile remain historically high for some time to come, indicating that the UK looks set for a troubling combination of recession and elevated inflation as we move into the second half of the year."