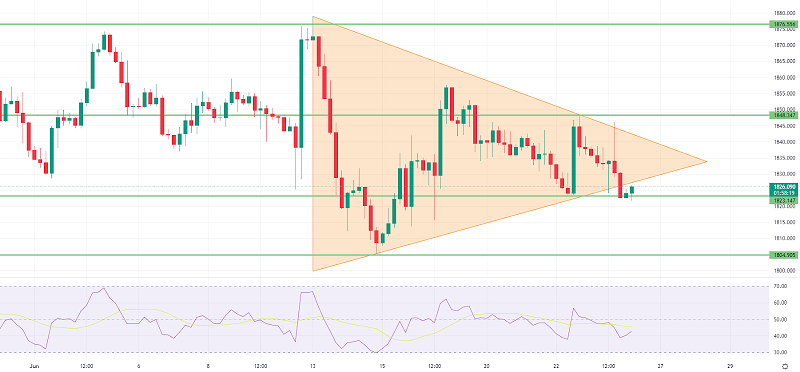 Gold Gains Support – Why Could XAU/USD Drive Uptrend Above $1,825?
The gold price hopes for a rebound after testing Wednesday's low of $1,820.00. Since the late New York session, the precious metal has been oscillating in a narrow range of $1,822.67-1,825.47 and is now showing signs of an upside break of the range-bound move.
The Federal Reserve (Fed) chair Jerome Powell's testimony that the central bank is 'unintentionally committed' to bringing price stability to the US economy has kept GOLD prices on edge. As a result, the Fed must raise interest rates to achieve the desired inflation rate. When the current inflation rate is compared to the target inflation rate, the former is at least four times the latter.
Meanwhile, the US dollar index (DXY) is expected to fall as the Purchase Managers Index (PMI) continues to underperform. The Manufacturing PMI came in at 52.4, well below forecasts and the previous print of 56 and 57, respectively. In addition, the Services PMI fell sharply to 51.6 from 53.5 in consensus and 53.4 in the previous print.
Gold Technical Outlook
Gold price provided positive trades to test the key resistance at 1850 and then bounced bearishly from there to keep the bearish trend scenario active for the upcoming period, waiting for more expected decline on an intraday basis.
The stochastic provides clear negative signals that we are waiting for to motivate the price to head towards our main targets, which begins at 1810 and ends at 1780.25. As a result, we will maintain our bearish outlook until the price rallies to breach and hold above 1850.
Today's trading range is expected to be between 1800 support and 1850 resistance.
The expected trend for today: Bearish