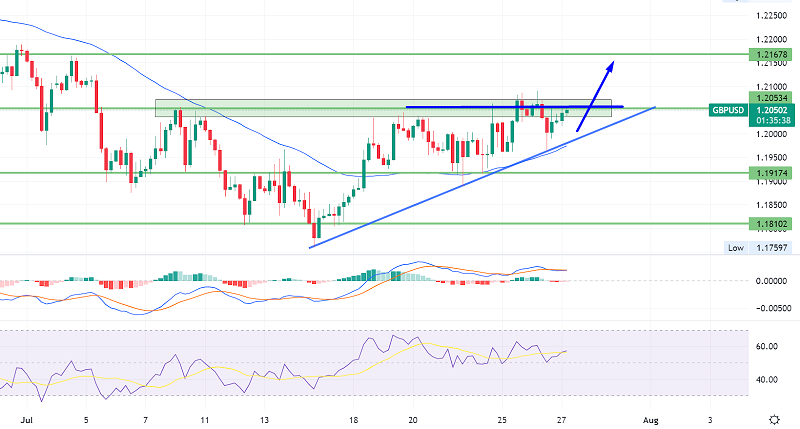 GBP/USD Steady Under Triple Top $1.2055 – Fed Fund Rate Ahead
The GBP/USD pair hit a new intraday high of 1.2053 after the US dollar index (DXY) fell sharply at the open. The cable is rapidly rising and has formed a bullish open test-drive shape. The aforementioned structure points to a more optimistic trading session for the remainder of the day, as pound bulls have defended the opening downside pressure and are scaling up aggressively.
The DXY has plummeted as falling retail demand has impacted the US economy hard. The US Consumer Confidence Index has dropped to 95.7 from 98.4 in June. Furthermore, the economic data has been pushed back until February 2021. Aside from that, Walmart, the world's largest retailer, posted disappointing results.
The underperformance of Consumer Confidence and lower earnings by retail giants imply that growing price pressures have severely harmed retail demand. However, the investment world should be aware that the US Retail Sales data remained cheerful after landing at 1%, higher than the expected 0.8%. Still, it was tainted by increasing energy bills and expensive food products. Because a rate hike of 75 basis points (bps) is approaching, the Federal Reserve (Fed) may be forced to scale back its aggressive outlook.
Meanwhile, the UK economy is already going through a difficult period, with inflation reaching a high of 9.4% and the Bank of England (BOE) not seeing enough strength in UK economic indicators to accelerate interest rates without hesitation. The BOE has little choice but to raise interest rates, but slippage in overall demand and lower wage growth would exacerbate recession fears.
GBP/USD Technical Outlook
The GBP/USD pair successfully touched our awaited target of 1.2077, beginning today with a new bullish bias in an attempt to breach it, reinforcing the chances of the bullish wave continuing on an intraday and short-term basis, noting that breaching this level will push the price to 1.2160 as a next target.
The 50 EMA continues to support the expected bullish wave, which will be valid until it breaks and holds below 1.2020. A break above the $1.2050 level exposes the GBP/USD price towards 1.2165 and even higher.
Therefore, today's trading range is expected to be between 1.2000 support and 1.2170 resistance.
Today's Projected Trend: Bullish