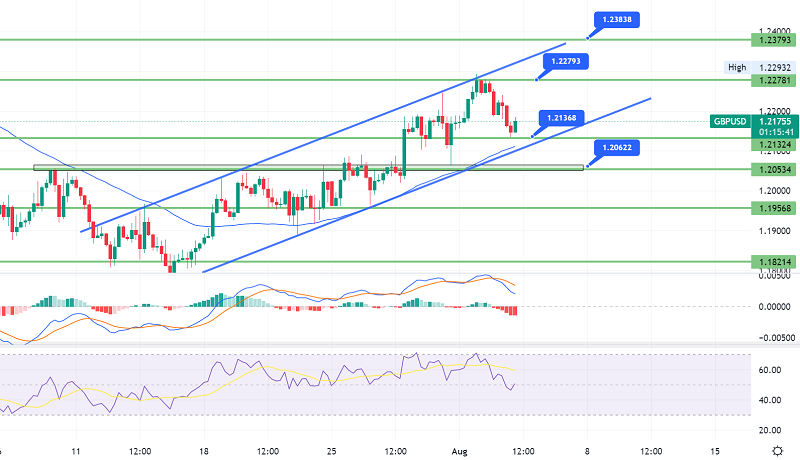 GBP/USD Gains Support at $1.2180, Brace for an Uptrend
The GBP/USD pair has violated the immediate resistance level of 1.2172 as investors have shrugged off US-China tensions and returned to riskier currencies. The cable took large bids below 1.2140 and moved vertically up. The asset reached an intraday high of 1.2175 and is expected to extend gains.
Previously, risk-sensitive currencies underperformed as rising Sino-US tensions boosted safe-haven demand. Furthermore, the DXY retreat was widely anticipated. Therefore, the DXY is anticipated to entice short-term investors ahead of Friday's US Nonfarm Payrolls (NFP) data.
The employment statistics are expected to continue negative, with market players anticipating a decrease in employment generation of 250k from the previous release of 372k. In addition, the unemployment rate is expected to stay at 3.6 percent. Investors should be aware that the US economy is at full employment, and a sustained increase in job creation at an increasing rate cannot be sustained. However, a good jump should be expected.
In the United Kingdom, investors anticipate a rate hike by the Bank of England (BOE) during its monetary policy meeting on Thursday. Andrew Bailey, Governor of the Bank of England, is likely to raise interest rates by 25 basis points (bps). Given the 9.4 percent inflation rate, a 25 basis point rate increase is insufficient to offset price pressures. However, the bleak economic statistics and political insecurity prevent the BOE from going all in.
GBP/USD Technical Outlook
The GBPUSD pair decisively breached the 1.2230 level, paving the way for a dip in the following sessions, with the pair aimed to test 1.2100 before returning to restart the positive trend. As a result, a bearish bias will be expected for the rest of the day, with the price projected to fall further before resuming the major bullish wave.
A break of 1.2100 – 1.2077 levels could put the price under further negative pressure and turn the trend to the downside. Today's trading range is likely between 1.2120 support and 1.2260 resistance.
Today's forecast: Bullish above 1.2130