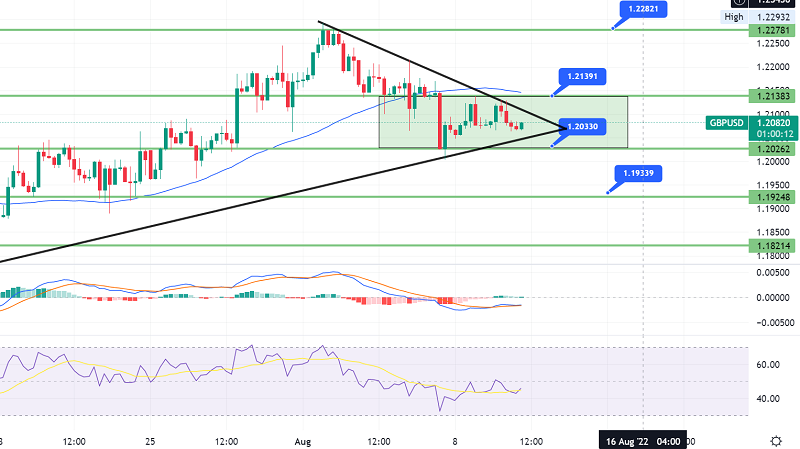 GBP/USD Under Pressure Amid BOE's Recession Warning
During Wednesday's Asian session, GBP/USD remained under pressure at the intraday low of 1.2070. The Bank of England's latest recession warning, along with rising prospects of another 75 basis-point interest-rate rise in the United States, may put sterling at risk of sliding below $1.20 "in the very near term," according to Korber in a note.
The Dollar Index, which measures the value of the US dollar against a basket of six other currencies, was 0.1% down at 106.188, falling further from Friday's top of 106.93, the highest level since July 28. The robust July jobs data raised anticipation that the United States Federal Reserve will continue its aggressive monetary tightening with another 75 basis point move in September.
The pound rose in late July on expectations that the Fed would abandon aggressive tightening. However, the recovery was cut short this month as US policymakers became more hawkish and the Bank of England presented a bleak economic forecast that overshadowed a 50 basis-point rate rise. Sterling has dropped 10% year to date against the dollar, placing it in the bottom three of G-10 peers as the Federal Reserve's rate-hike path has outperformed the BOE's.
"Recession worries are now receding in the United States, and the discussion has begun on whether or not the Fed will boost rates for the second time in a row by 75 basis points," Korber said. After Friday's stronger-than-expected job numbers, swap futures referencing Fed meeting dates have repriced to levels indicating that another 75-basis-point rise in September is more plausible. If the pound's gloomy outlook holds, Korber expects cable to fall between $1.14 and $1.20 monthly.
GBP/USD Technical Outlook
The GBP/USD pair is struggling to overcome the EMA 50, now fluctuating at 1.2077, with stochastic clearly gathering positive momentum, waiting to urge the price to restart bullish trades to surpass the EMA 50 and ease the goal of rallying towards our first positive objective at 1.2210.
As a result, we will maintain our optimistic outlook unless 1.2045 is broken and held below. Today's trading range is predicted to be between 1.2020 support and 1.2170 resistance.
Today's projected trend: bullish
UK gilt yields reversed lower yesterday after surging for two months as the BOE intervened, but can they keep it under control
2 days ago