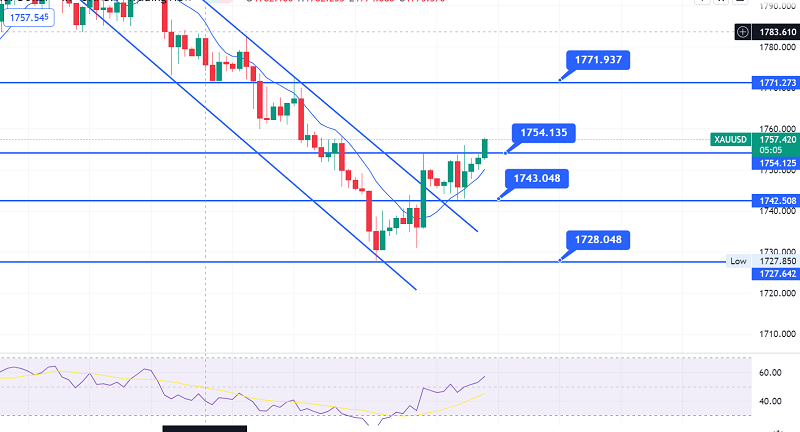 Gold on a Bullish Run – Why $1,754 Could Drive an Uptrend
The gold price is progressively rising and has reached a new four-day high of $1,756.77 in the Asian session. As the US dollar index (DXY) experiences a self-off ahead of the Jackson Hole Economic Symposium, precious metal XAU/USD is seeing demand. The DXY has had a bearish start this session, dropping to near Tuesday's low of 108.36.
Gold prices gained on Thursday, backed by a drop in the dollar, as investors anticipated interest rate guidance from the US Federal Reserve at a critical central bankers' meeting this week in Jackson Hole, Wyoming. Investors across financial markets are preparing for the US Federal Reserve to either maintain its commitment to containing inflation or announce a "pivot" to more gradual interest rate rises.
On Friday, Powell will speak at the annual global central banking conference in Jackson Hole, Wyoming. Analysts are giving investors different signals about Federal Reserve (Fed) chair Jerome Powell's scheduled remarks at Jackson Hole.
Thus the currency market is expected to stay turbulent. Without a doubt, indicators indicate that price pressures are nearing their peak, and a downturn in private-sector activity causes the Fed to moderate its rate of interest rate hikes. However, the inflation rate remains above 8%, and the Fed's onerous work of raising borrowing rates is far from complete.
Aside from that, investors will be looking at the second-quarter Core Personal Consumption Expenditures (PCE) data, which is predicted to remain stable at 4.4%.
Gold Technical Outlook
Previously, gold prices fell after approaching the resistance of 1760 and now face the support of 1740, which, if violated, will send prices back to 1730. Today's trading range is expected to be between the 1740 support and the 1760 resistance.
Gold gained ground yesterday and closed above the declining channel, propelling it farther higher towards 1755, then 1770, if it remains above 1730. Today's trading range is expected to be between the 1740 support and the 1760 resistance.
Today's expected trend: bullish