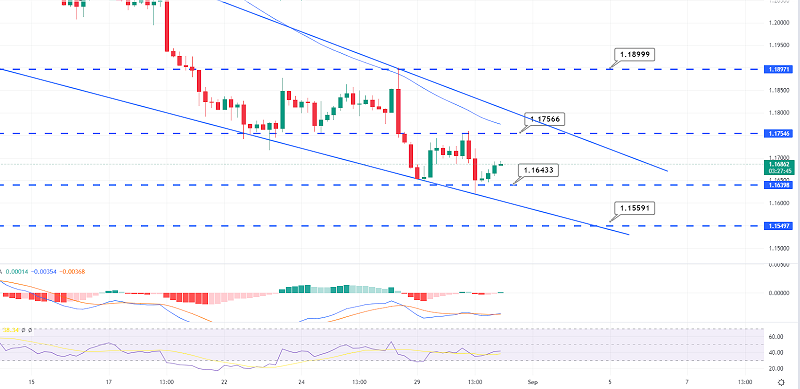 GBP/USD Gains Support at $1.1643 – ADP NFP in Highlights
The GBP/USD pair is steadily rising, approaching the round-level resistance of 1.1700, as the US dollar index (DXY) has given up its gains from Tuesday. The cable GBP/USD has prolonged its recovery after breaking through the immediate barrier of 1.1675, reaching approximately 1.1685 while I was writing this post. The asset's gains are projected to be extended further as the DXY remains volatile.
In the Asian session, the DXY gave a negative break of the consolidation built in a narrow range of 108.67-108.88. DXY's gain is evaporating as investors get cautious before the US Nonfarm Payrolls (NFP) data. The early prediction predicts that the US economy expanded 300,000 jobs in August, which is lower than the previous report of 528k.
Given that the US economy is at full employment, 300,000 job additions are adequate. However, the Average Hourly Earnings report may make the task of Federal Reserve (Fed) policymakers more difficult. Price pressures have already dampened consumer morale; thus, greater wages are required to compensate for inflated payouts. Furthermore, economic data is predicted to rise by 10 basis points (bps) to 5.3%.
A light economic calendar may emphasize the DXY for cable directly from the UK perspective. The British Retail Consortium's Like-For-Like Retail Sales will be the focus of investors next week (BRC). Previously, the yearly economic data came in at 1.6%. The economic data is projected to stay positive as energy bills in the pound zone continue to rise.
GBP/USD Technical Outlook
The GBP/USD pair offered new negative trades yesterday and moved closer to our first anticipated target at 1.1605; it is currently displaying a slightly bullish bias, influenced by stochastic positivity, and is awaiting the arrival of fresh negative factors that will help push the price to offer more negative trades, surpass the target level, and clear the path for movement toward 1.1500 as the next station.
Until the price surges to breach and hold above 1.1750, the EMA 50 will continue to support the anticipated bearish wave. The support and resistance levels for today's trading are 1.1570 and 1.1750, respectively.
Today's anticipated trend is bearish.