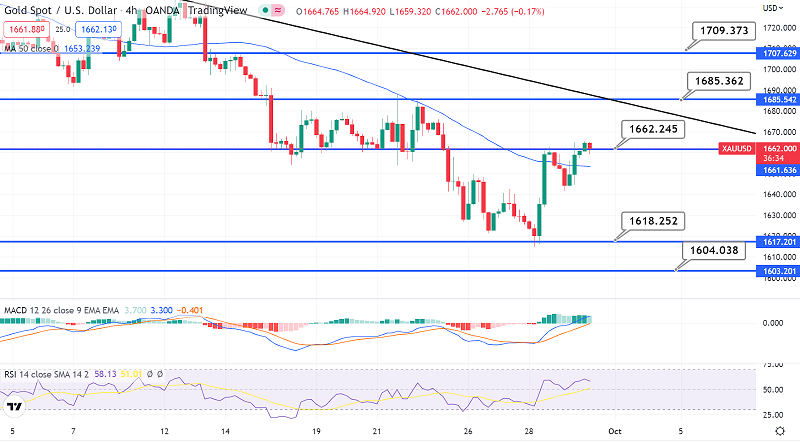 Gold Rises Amid Weaker GDP Figures – Daily Outlook
Gold prices increased on Friday, aided by a drop in the US dollar. Still, the Federal Reserve's pledge to maintain its aggressive rate-hike policy kept the metal on course for its sixth consecutive monthly decrease. The GOLD price seeks to breach the important $1,680.00 level as the US dollar index continues to fall (DXY).
After sustaining above $1,650.00, the precious metal prolonged its recovery and is predicted to remain in the grip of bulls in the near future. The yellow metal completed its corrective advance towards $1,640.00 and rose as the US GDP remained aligned with projections.
On an annualized basis, the US GDP has fallen by 0.6%. The implications of the Federal Reserve's (Fed) larger rate hikes appear to show their real colors. Bets on a future recession in the United States were rising before San Francisco Fed chief Mary Daly's comments.
According to Reuters, Fed policymakers feel that the central bank should stop focusing on creating more jobs to contain inflation and avoid a recession. The US core Personal Consumption Expenditure (PCE) price index data will continue to be scrutinized in the future. The economic statistics are predicted to rise to 4.7% from 4.6% in the previous edition.
A higher-than-expected result may cause the DXY to complete its correction sooner. Fed policymakers will move forward with rising borrowing costs in the United States to combat skyrocketing inflation, despite instability in global financial markets and early signs that their actions are harming the labor market.
Although gold is a hedge against inflation, a series of aggressive US rate hikes this year has eroded the metal's appeal and pushed the dollar to a two-decade high. According to statistics released on Thursday, economic morale in the Eurozone declined quickly and more than predicted in September as confidence fell among businesses and consumers, who are also pessimistic about pricing movements in the coming months.
Gold Technical Outlook
The gold price has resumed increasing, breaching the $1,660 level and closing the daily candlestick above it, on its road to obtaining fresh bullish corrections in the coming sessions, on its approach to $1,686.40 as the next correctional station.
As a result, a bullish bias will be advised for today, backed by a move above the EMA 50, with the understanding that a breach of $1,660 followed by $1,648 levels will halt the predicted advance and press on the price to resume its primary negative track.
Today's trading range is likely between $1,645 support and $1,686 resistance.