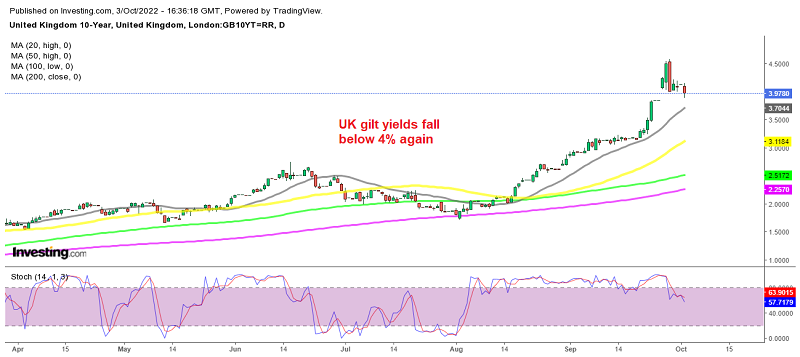 The First Test for GBP/USD Bulls, As They Face the 20 Daily SMA
GBP/USD has been really bearish recently, especially about a week ago as UK gilt 10-year yields surged to 4.60%. This sent GBP/USD to 1.0350s, but the Bank of England decided to intervene by buying government bonds. That calmed the markets and sent gilt yields down to around 4%, where they stood for the entire week.
GBP/USD Daily Chart – The 20 SMA Is Under Attack
The retrace higher is almost complete as stochastic shows 
That improved the sentiment for the GBP, sending GBP/USD higher. Today we saw a break of the 4% support UK bond yields, which is helping the GBP further. The Bank of England commented earlier today, saying that they stand ready to buy GBP5 billion of gilts at each reverse auction.
Today's buyback operation from the BOE went well and UK yields declined. The BOE is now reiterating that it will buy bonds until October 14 in last week's hastily-arranged QE operations.
Comments from the Chancellor
Economic deal will be backed by iron-clad commitment to fiscal discipline
Shortly we will publish a medium-term fiscal plan with full OBR forecasts
We will have a strong fiscal anchor with debt falling in a fiscally responsible way
Nothing says fiscal discipline like a blank cheque for energy prices with no incentive for consumers to conserve. It's going to be really tough for this government to undo the damage from its disastrous first impression.