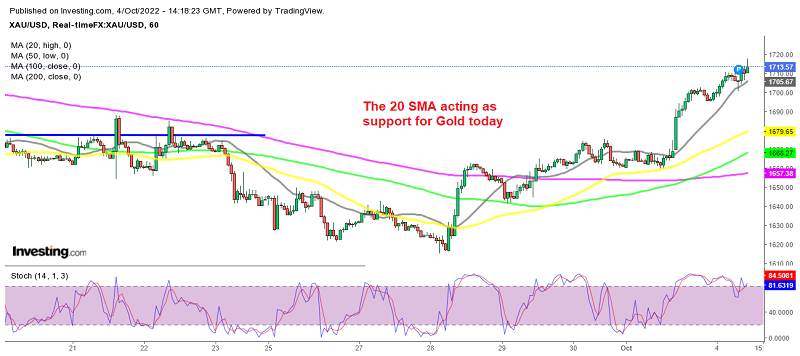 Gold Remains Supported, USD Takes Another Dive on Record JOLTS Job Openings Decline
The situation for the USD is looking worse every day since early last week, after being extremely bullish for many months. As we mentioned in our other articles today, the USD is falling on negative data, while ignoring positive data. The FED has left interest rates at the mercy of the data, which is showing increasing weakness.
Today's  JOLTS jobs openeings posted the biggest decline in record during August, which sent the USD another leg lower. Gold has climbed around $100 higher since Tuesday last week, after the berish momentum in September. The 20 SMA (gray) provided support earlier today on the H1 chart, which shows that the buying pressure is quite strong. So, we decided to open a buy Gold signal a while ago.
JOLTS Job Openings Report for August
JOLTs job openings has hit the largest one month drop on record
Job openings 10.05M vs 10.775M est. First time under 11M since September 2021. This was the largest one month drop on record
JOLTS job openings for July were 11.239M
Job openings MoM change -6.2%
Hires were little changed at 6.3 million. The rate was unchanged at 4.1%
Total separations including quips, layoffs, and discharges and other separations were also little changed at 6.0 million
Quits rate unchanged at 4.2 million. The quit rate is a measure of workers' willingness or ability to leave jobs.
Layoffs were also little changed
For the job openings, the largest decreases were in healthcare and social assistance, -236K, and other services -183K and retail trade -143K,
Bad news is good news and with the JOLTS job data showing the biggest monthly decline on record, a softening in the jobs picture is what the Fed wants to see.
Dow industrial average is up 745 points or 2.52% at 30231.75
S&P index is up 103.77 points or 2.82% at 3782.85
NASDAQ index is up 360.86 points or 3.34% at 11176.30. The NASDAQ has moved above its 200-week moving average at 11130 Russell 2000 is up 55.72 points or 3.26% at 1764.59