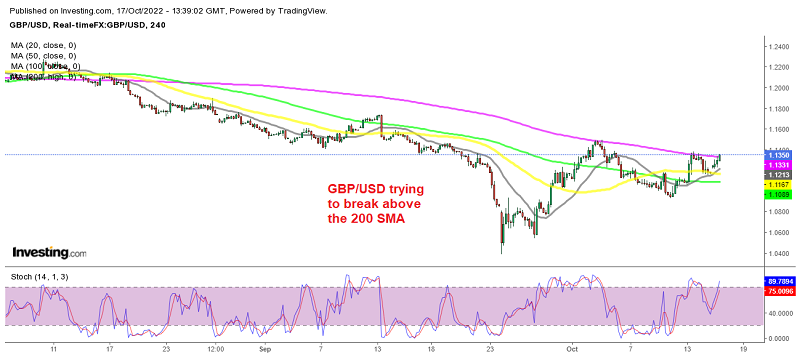 GBP/USD Retests the 200 SMA After the UK Budget Change
Today GBP/USD opened with a gap higher, as traders were hoping for a turn in the fiscal path to be set out by the new UK finance minister, Jeremy Hunt. He made an emergency statement, ripping apart the mini-budget that was announced on 23 September. UK gilt yields turned lower while the GBPrallied going into the statement and largely held its position in the aftermath.
UK 30-year gilt yields are down 42 bps to 4.36% while GBP/USD had a knee-jerk jump from 1.1280 to 1.1330 before falling back to 1.1250 and is now back up to 1.1290-00 levels. The better mood in GBP/USD is also being helped by a softer USD overall, as equities are taking comfort amid a bid in bonds as well today. US futures are up over 1% and that is feeding into better sentiment in broader markets and among major currencies.
UK 10-Year Gilt Yields – Falling Below the 200 SMA

Is the trend changing?
I think the main takeaway is that this whole political and financial crisis related to Trussnomics can be put to bed at least. That could see gilt yields pull back further but at the same time, it also means that the BOE is likely not needed to overextend and to do more by acting aggressively in order to address whatever policy missteps there might have been from the government.
The fact that Hunt also announced that the energy price cap will only last until April next year is a testament to that, in the sense that the government is now working more in line with the central bank.
The pair was holding around 1.1280 before Hunt's statement came and right after, it pushed to a high of 1.1330. That came as the dollar also softened as risk trades extended gains but now we're seeing a bit of a pullback in GBP/USD to 1.1270-80 levels again. One can argue that we already saw the bullish price action come into play at the start of the day but even so, the reaction here is rather tepid in my view.