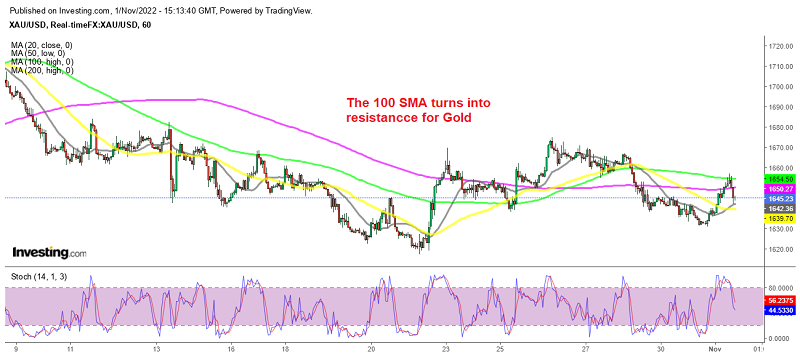 Gold Reversing Lower on Higher US JOLTS Jobs Openings Figures
Gold has been on a bearish trend overall as the USD remains bid, with the FED being on a very steep tightening path. Although, expectations are that the FED will slow down with rate hikes soon, probably after the 75 bps rate hike which is planned for tomorrow. That's one of the reasons that the USD has been showing signs of weakness recently, while Gold has been retracing higher.
Today we saw some bullish momentum in the European session as risk sentiment improved in financial markets, but moving averages turned into resistance and stopped the climb. On the H1 chart above, the 100 SMA (green) provided resistance and the price reversed lower, after being overbought, with the stochastic indicator indicating a bearish reversal.
Gold H4 Chart – The 100 SMA Acting As Resistance
MAs keeping Gold bearish
On the H4 chart, we see that the 100 SMA has turned into resistance here as well, and Gold is facing the 50 SMA (yellow) at the bottom now. The main reason for the reversal was the JOLTS job openings in the US.Coming off the August JOLTs report which showed a record decline of 1 million job openings, the hope was September would at least keep that trend in play.
JOLTs Job Openings for September 2022
US September 2022 Construction Spending Report
September construction spending +0.2% vs -0.5% expected
August construction spending was -0.7%
Construction spending during September 2022 was estimated at a seasonally adjusted annual rate of $1,811.1 billion, 0.2% above the revised August estimate of $1,807.0 billion
Private construction +0.4%
Public construction -0.4%
This is an important component in GDP and will lead to upward revisions on Q3 estimates. We already got the advance reading on Q3 last week.