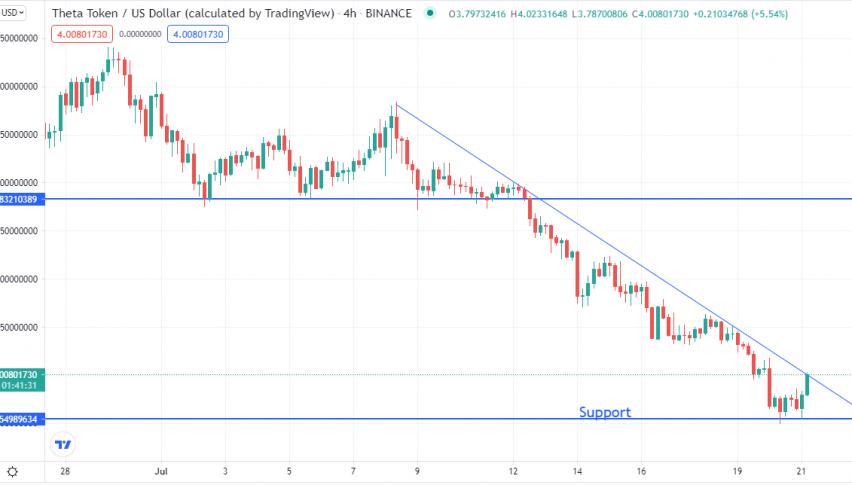 Is Theta Network's (THETA) Sub-$1.00 Level the Right Time to Invest?
Cryptocurrency token Theta Network (THETA) is down today by 3.88%. The coin has dropped to $0.891 (THETA/USD) and is dangerously low compared to its lifetime average.
The Problem of Dropping below $1
Only a few times since Theta climbed past $1.00 has it dropped below that level. Back in late 2020, the coin passed $1.00 for the first time and has stayed well above it for most of the time since then.
However, 2022 has been a rough year for the cryptocurrency industry at large and Theta in particular. In 2022 alone, Theta has fallen below $1 several times, and that has never happened before 2022. This is part of what makes this price drop so alarming.
We also notice that investor interest in Theta drops off after a sub-$1 price point. Right now, trade volume is down 4.75% for the day, with trade of $20.6 million over the last 24 hours. In the weeks before this most recent drop, Theta was averaging between $40 and $80 million in trade per day.
This token is struggling right now because it has not just dipped below $1, but it also seems to be planted there. What usually happens with Theta is that when it falls below this crucial price point, it recovers quickly and gets back above $1. That is not happening here, and it has analysts concerned about the future prospects of Theta.
When a coin drops below a particular milestone ($1, in this case), consumer confidence in the coin can take a hit and may not recover.
Should You be Investing?
The problem with Theta at the moment is that it may not recover its trade volume even if the price recovers. That is what we are going to be watching for now, as that will determine if the coin has any long-term prospects. While the price is incredibly low right now and tempting for investors, there is no guarantee it will surge back up in the near future.
The cryptocurrency market is in a downturn at the moment, and while there could be some positive change in the next few weeks, some crypto coins could be taking serious, potentially fatal hits right now. We will have to wait and see if Theta is one of the casualties of the latest market drop.