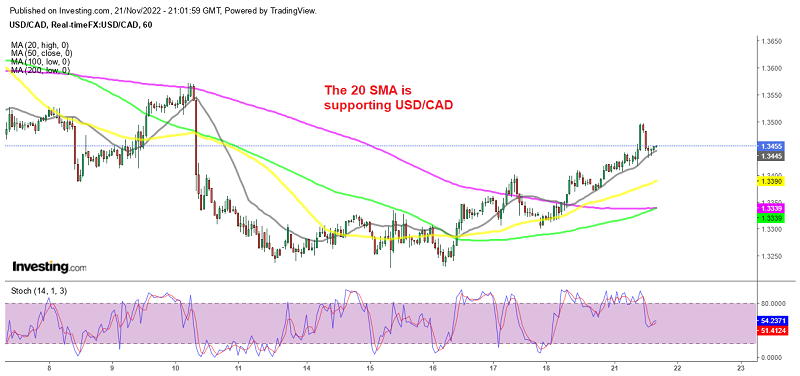 Is the Trend Changing for USD/CAD As It Finds Support at the 20 SMA?
USD/CAD has been bearish in the last few weeks as the USD was going through a retreating period. Although, since last Friday buyers have been in control, so it seems like the trend might be turning bullish for this forex pair. We saw a jump yesterday after rumours from Wall Street Journal which suggested that OPEC might increase production by 500k barrels/day at the December 4 meeting.
Crude Oil dived around $5 lower, with the US WTI dipping a few pips below September's low, which makes that the lowest level this year. But, Saudis denied those rumours and Oil bounced back up.
Bloomberg Report
Saudi officials deny the production hike
The current OPEC+ deal continues to the end of 2023
If additional measures are needed to balance supply and demand, we will intervene.
WTI Oil H1 Chart – MAs Remain As Resistance
US crude Oil bounced back to the 50 SMA after the denial
The closing price for WTI crude Oil on December 31 last year came at $75.35. The move lower yesterday completed the "up and down lap" for the year to that level. The high for the year reached $129.42 back in March so the price is around 40% from that high.
We opened a buy forex signal in
USD/CAD
yesterday, which closed in profit, while opening another buy signal after the denial of Oil production from the Saudis. The sentiment continues to remain negative, with the FED members still commenting on more rate hikes as we saw yesterday, while China is keeping the covid restrictions. So, this pair will likely stay bullish this week.
Yesterday the FED delivered a hawkish pause with the DOT Plot pointing to more rate hikes, today the SNB and the BOE should hike by 25 bps
3 days ago