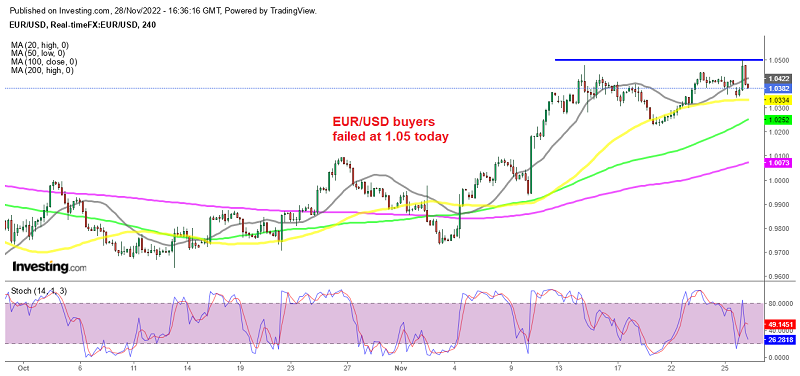 Is 1.05 the Top for EUR/USD After Getting Rejected on China Unrest?
EUR/USD used to be really bearish until the end of September, as it fell to 0.95 lows during that period on the FED raising interest rates at a very fast pace, while the ECB just got started. But, the sentiment has been improving since then and this pair has turned bullish, making some decent gains of nearly 10 cents as it pushed up to 1.05 earlier today.
But, the reversal lower has been just as fast, which came as the sentiment turned sour on China protests. Markets are struggling to price the current Chinese worries against hopes that unrest will lead to a quicker reopening. But, the month-end flows are part of this volatility today and almost everything that we're seeing here is noise. Christine Lagarde was with some hawkish comments earlier today at the European Parliament, which should help the Euro in the coming sessions.
ECB President Lagarde Q&A at European Parliament
The risks to the inflation outlook are on the rise
Inflation will eventually slow
I would not go so far as saying inflation has peaked
Might need to move rates into restrictive territory
Still have a ways to go with rate hikes
ECB committed to bring down inflation to medium-term target
Decisions will follow a meeting-by-meeting assessment
In December we will also lay out the key principles for reducing bond holdings
It is appropriate that balance sheet is normalized over time in a measured and predictable way
Incoming data suggests that wages are picking up, we will continue to assess that implication
Fiscal policy needs to be considerate and to not add to inflationary pressures
Growth is expected to continue weakening for the remainder of this year and the beginning of next year
Strong labor markets are likely to support higher wages
ECB officials have certainly taken a hawkish stance today. The euro has edged a tad lower to 1.0448. You can see there's growing worry about growth creeping into the market but the comments continue to focus on inflation. I'm carefully watching weather forecasts and starting around December 5 and lasting for at least a week, there's some very cold weather coming to Europe. That will be the first big test of the energy market. The terminal rate is priced at 2.90% in June at the moment.
We have turned bearish in EUR/USD as the bullish pressure fading and the price heading for 1.07 now
2 days ago