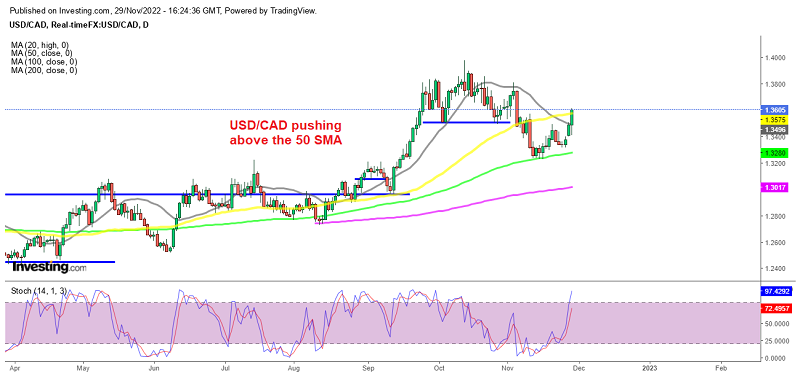 USD/CAD Surging Toward the 50 Daily SMA, Despite the $6 Rally in Oil
After a strong bullish move in September which sent USD/CAD close to 1.40, this pair turned bearish in October, as the USD started to retreat lower while risk sentiment improved for commodity dollars on rummours of a Chinese reopening. The price fell below some moving averages, but the 100 SMA (green) held as support on the daily chart, stopping the decline.
By the middle of this month, USD/CAD started bouncing off the 100 SMA and has been bullish since then. This pair has gained more than 300 pips so far, which means that the CAD has been declining this month while other currencies have been gaining against the USD and are up so far.
That's partly because crude Oil was declining until yesterday, with the US WTI Oil reaching $73.50s. But, comments from OPEC about a production cut and protests in China which could force the government to reopen fully are helping the sentiment and Oil has been bullish in the last two days, gaining more than $6, as it heads to $80.
Nonetheless, USD/CAD continues to push higher as shown in the chart above, but buyers are facing the 50 daily SMA (yellow) now. Although the USD is starting to gain some momentum after yesterday's strong bullish reversal which is coming after a bearish period, so buyers might push even higher. A while ago the Q3 GDP report was released from Canada, which came above expectations, but it didn't improve the sentiment much for the CAD.
Canada Q3 GDP Report
Q3 GDP +2.9% vs +1.5% expected
Q2 was +3.3% (vs +4.4% expected)
GDP +0.7% q/q vs +0.8% prior
Implicit price change -1.4% q/q vs +3.3% prior
GDP MoM +0.1% vs +0.1% expected
Prior GDP MoM reading was 0.1%
October advance GDP unchanged
Inventories +46.8B vs +$47.0B prior
Nominal GDP QoQ -0.7% vs +4.0% prior
Compensation for employees QoQ +1.2% vs +2.0% prior
Final Q3 domestic demand -0.2% vs +0.6% prior
Household spending -0.3%
This is the fifth consecutive quarterly increase for Canada and a surprise. Growth in exports, non-residential structures, and business investment in inventories were moderated by declines in housing investment and household spending. Inventories are the kicker as they grew at a near-record pace with StatsCan citing manufacturing inventories in particular. Optimistically, that might be rebuilding inventories but it bears close watching with global growth slowing.
The BOC will take some solace in slowing wage growth and they will feel good about slowing the pace of hikes. The market is 74% priced for 25 bps on Dec 7 with the remainder at 50 bps.
USD/CAD was testing the highs early in November, with the price trading around 1.39, before making a sharp reversal. The price found support
3 days ago