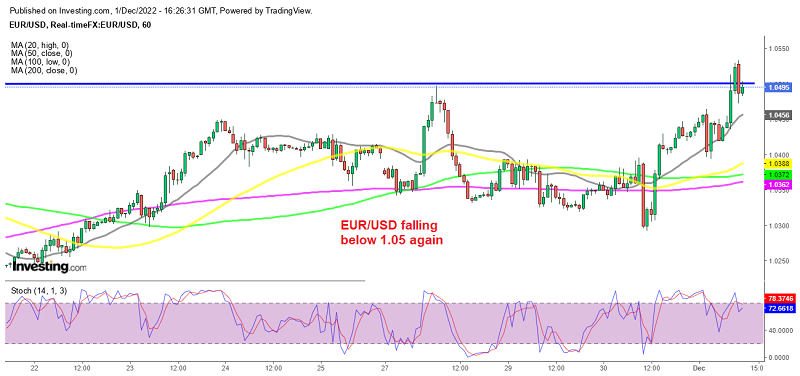 EUR/USD Retreats Below 1.05 After ISM Manufacturing Falls in Contraction
The USD has been retreating in the last two months, although we saw some sort of a comeback last week. Although the decline resumed again this week as the sentiment improves on hopes of a Chinese reopening and a FED slowdown. As a result, EUR/USD pushed above 1.05 after Jerome Powell's comments yesterday about slowing rate hikes. Today after the ISM manufacturing report was released which fell below the 50-point level, EUR/USD reversed and fell below 1.05, after trading as high as 1.0530s.
November US Manufacturing PMI from the ISM
November US ISM manufacturing index 49.0 points vs 49.8 expected
October ISM manufacturing was 50.2 points
Estimates ranged from 48.0 points vs 50.4
Prices paid 43.0 points vs 47.5 expected (prior 46.6)
Production 51.5 points vs 52.3 prior
Employment 48.8 points vs 50.0 prior
New orders 47.2 points vs 49.2 prior
Order backlog 40.0 points vs 45.3 prior
New export orders 48.4 points vs 46.5 prior
This is the first reading below 50 in two-and-a-half years. I'd be surprised if the market was priced at the 'consensus' because the regional numbers have been soft.
Comments in the report aren't positive:
"Customer demand is softening, yet suppliers are maintaining high prices and record profits. Pushing for cost reductions based on market evidence has been surprisingly successful." [Computer & Electronic Products]
"Future volumes are on a downward trend for the next 60 days." [Chemical Products]
"Orders for transportation equipment remain strong. Supply chain issues persist, with minimal direct effect on output." [Transportation Equipment]
"Consumer goods are slowing down in several of our markets, although the U.S. economy seems decent. Cannot say the same for the European economy." [Food, Beverage & Tobacco Products]
"General economic uncertainty has created a slowdown in orders as we approach the end of the year, and many of our key customers are reducing their capital expenditures spend." [Machinery]
"Overall, things are worsening. Housing starts are down. We're doing well against our competitors, but the industry overall is down. We're sitting on cash (that is) tied up in inventory." [Electrical Equipment, Appliances & Components]
"The market remains consistent: sales match expectations; there are concerns about the impact of rising interest rates on customers; most suppliers have recovered on labor, but some are still struggling; and 

inflation

 seems to have peaked, but commodity price decreases have not been passed through to us. Lots of unknowns regarding impact to the European Union from the Russia-Ukraine war and questions about customer behavior in 2023." [Miscellaneous Manufacturing]
"There is caution going into 2023, but the commercial section of construction seems to still be going strong." [Nonmetallic Mineral Products]
"Looking into December and the first quarter of 2023, business is softening as uncertain economic conditions lie ahead." [Plastics & Rubber Products]
"Slight improvement on overall business conditions from the previous month." [Primary Metals]
Note the collapse in the backlog of orders: