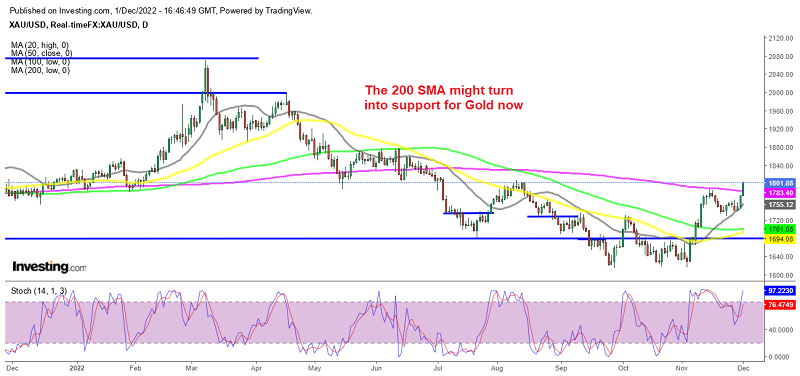 Gold Breaks Above the 200 Daily SMA, As It Pushes to $1,800
The situation has reversed for Gold since early November, as it pushes above $1,800, after having traded at $1,615 at the beginning of last month, where it formed a decent support zone. Buyers pushed above the 50 SMA (yellow) was had been acting as resistance on the daily chart but the 200 SMA (purple) turned into resistance and rejected the price.
Although, the 20 SMA (gray) turned into support and this week we are seeing a bounce off that moving average. Today buyers pushed the price above the 200 SMA and above $1,800 as well as the USD continues to decline post-Powell comments.
So, Gold is off to a shining start already this month. The Dec-Feb period for gold is one of the strongest seasonal patterns around and with Powell shifting to a less-hawkish stance along with a top in the USD, there are plenty of reasons for the Gold bugs to cheer. Even the implosion in crypto is good news for gold. Above $1,800 comes the August high of $1807 which is the level to watch. Gold bulls will also want to see a close above the big figure.