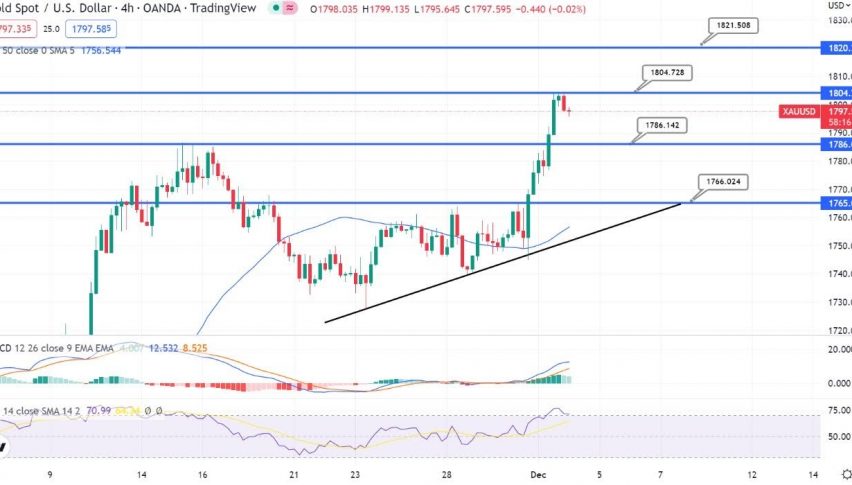 Gold Enters Oversold Zone: Short $1,800?
The gold price rose for the third day, reaching a two-week high during the mid-European session. GOLD is currently trading around $1,780, with bulls aiming to move above the three-month high reached in November.
Following Federal Reserve Chair Jerome Powell's overnight dovish remarks, the US dollar remained near a theoretically crucial 200-day Simple Moving Average (SMA). A weaker US dollar acts as a tailwind for the price of gold denominated in US dollars. Powell conveyed a clear signal that the US central bank's attitude would soften and that it was time to slow the pace of interest rate hikes.
The possibility of a less aggressive Federal Reserve policy tightening contributes to prolonging the recent decrease in US Treasury bond yields. Indeed, the yield on the benchmark 10-year US Treasury note has fallen to a nearly two-month low, weighing on the US Dollar and benefiting the non-yielding gold price. However, uncertainties over peak interest rates in the United States may limit the XAU/USD.
Indeed, Powell cautioned on Wednesday that interest rates could climb considerably farther than originally anticipated owing to persistently strong inflation. As a result, the market's attention is drawn to the November Personal Consumption Expenditures (PCE) Price Index in the United States. The Federal Reserve's preferred inflation rate is projected to stay substantially above the 2% objective; however, hints of reducing price pressures may weaken the US dollar and raise the price of gold.
The ISM Manufacturing PMI will also be released on Thursday's US economic calendar. This, together with US bond yields, may impact USD price dynamics. Aside from that, the broader market risk mood should allow traders to take advantage of short-term opportunities surrounding the gold price ahead of the much-watched US monthly jobs (NFP) report on Friday.
Gold Technical Outlook
The gold price reached and exceeded our second target of $1,786.50, confirming the bullish trend's intraday and short-term dominance. It's paving the way for further gains that begin at $1,815.00 and extend to $1,850.00, considering that holding above $1,786.50 represents the first condition to continue the expected rise. Good luck!