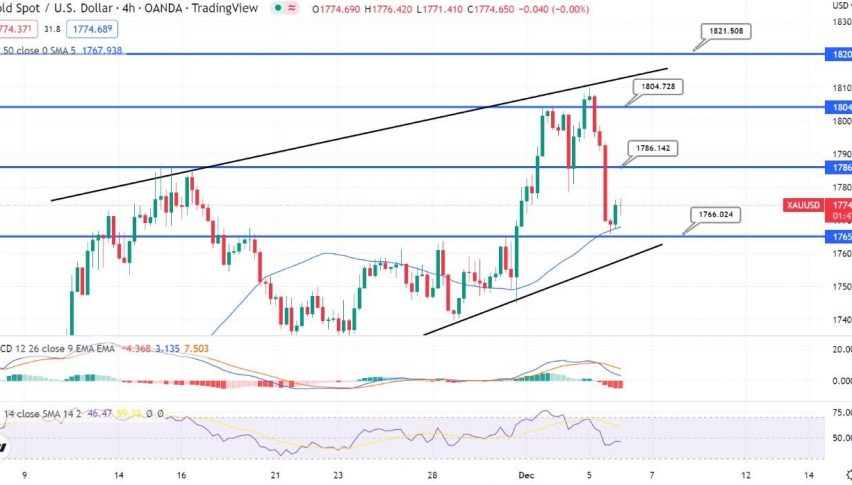 Gold Gains Support at $1,765 – Brace for a Buying Position!
The gold price has retraced after reaching a multi-month high of $1810, propelled by high US Treasury yields and a risk-off urge. Factors such as the latest employment report in the United States (US) confirmed the labor market's tightness and led to a rise in US bond yields.
The loosening of Covid-19 limits in China prohibited the yellow gold from gaining. The XAU/USD is trading at $1776 at the time of writing, down 1.30%.
Equity futures indicate that US equities will open lower. In last week's employment report, November Nonfarm Payrolls (NFP) increased by 263K, above 200K projections, while the unemployment rate stayed steady at 3.7%.
Average hourly earnings increased by 5.1%, compared to predictions of 4.9%, implying that the US Federal Reserve (Fed) will continue to raise interest rates, even if just by 50 basis points. Fed Chairman Jerome Powell stated in his Wednesday speech, "the key wage metrics that we look at, I would say you're one and a half or two percent above that (which is consistent with two percent inflation over time)."
Over the weekend, Chinese officials began to reduce testing criteria in major cities as Beijing swings away from Covid-19 zero-tolerance measures in the face of increased allegations of virus infection. Last week, Chinese Vice Premier Sun Chunlan declared that the country's pandemic response had reached a new level. In the face of changing problems and duties, the government will take small, continuous actions to improve Covid measures.
Gold Technical Outlook
Gold price traded with strong negativity to break the $1786.50 level and begins pressing on the bullish channel's support line, indicating that the intraday correctional bearish wave will begin at $1,764.40 and extend to $1,736.15 after surpassing the previous level, taking into account that the bearish correctional will be confirmed after closing the daily candlestick below $1,770. Good luck!