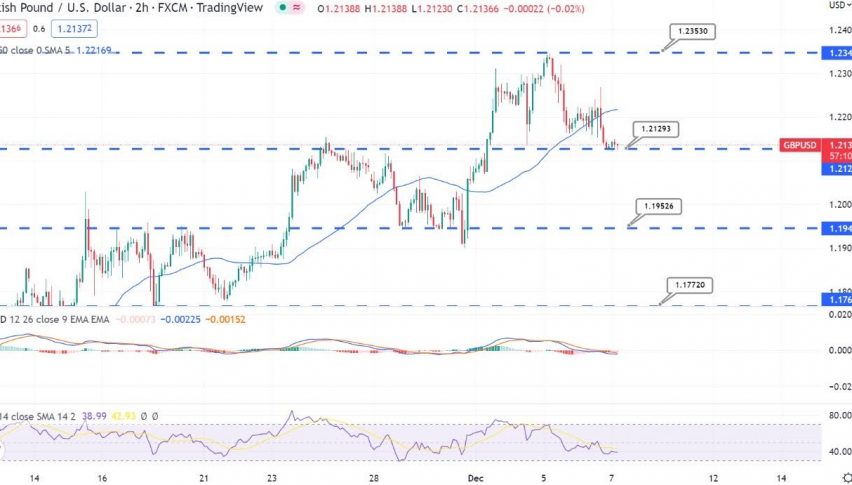 GBP/USD Slips Under 50 EMA – Buy Now Above $1.2125?
The GBP/USD pair has had a minor reversal after building up demand at the critical support level of 1.2120 during the Asian session. Cable has sought to recover, aided by the wild movements of the US Dollar Index (DXY). It is premature to state that the risk aversion theme has disappeared without a positive trigger. As a result, the Cable's recovery moves must go through more filters.
The USD Index exhibits erratic movements after failing to extend gains above the crucial level of 105.70. Meanwhile, after maintaining a flat in early Tokyo, S&P500 futures have seen limited activity. Stocks in the United States fell sharply in two consecutive trading sessions as the Federal Reserve (Fed) raised interest rate projections, reigniting worries of a recession. The 10-year US Treasury yield is currently about 3.55%.
Positive de-anchoring in short-term inflation expectations has been prompted by the synergy generated by buoyant US Nonfarm Payrolls (NFP) and healthy service sector demand. The US economy's phenomenological strength is not beneficial to the Fed's current monetary strategy. Fed Chair Jerome Powell is working hard to achieve price stability and stable economic prospects to fuel inflationary pressures.
This has fueled anticipation for a higher interest rate peak to rein in inflationary pressures. However, the chances of a slowdown in the present rate of interest rate hikes have yet to evaporate.
The escalating food supply issue in the United Kingdom has raised fears of increased food inflation. Earlier this month, the British Retail Consortium (BRC) stated that UK food price inflation had reached a new record of 12.4%. Food inflation will gain strength and may accelerate headline inflation as the food supply issue worsens due to a manpower shortage and skyrocketing input costs.
GBP/USD Technical Outlook
The GBPUSD pair has been trading negatively since yesterday evening, testing the key support level of 1.2130. A closer look at the GBP/USD chart reveals that the price has formed a double top pattern, which may push the price to exit the minor bullish channel and turn to decline on an intraday basis, while technical indicators provide positive signals that may assist in pushing the price to resume the bullish trend.
As a result of the contradiction between the technical factors, we prefer to wait until we get a clearer signal for the next trend, noting that breaking 1.2095 will verify turning to decline and achieve negative targets that start at 1.2025 and extend to 1.1915 while breaking 1.2225 will stop the negative current pressure and push the price to resume that bullish trend that primarily targets 1.2345 followed by 1.2400.
Today's trading range is likely between 1.2050 support and 1.2230 resistance.
Today's predicted trend: Bullish above 1.2125