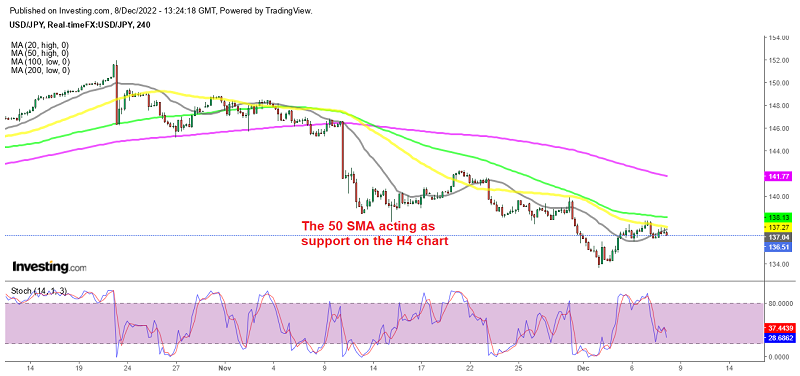 Selling USD/JPY As Market Remain Cautious
USD/JPY used to be extremely bullish, as the Yen kept declining, with the Bank of Japan keeping interest rates on hold, while other major central banks kept hiking them pretty fast. But the surge stopped at 152 after the intervention from the Japan Ministry of Finance and since late October this pair has been declining. 
On the H4 time frame, this pair continued the downtrend until 2 December, when a lower bottom was recorded at 133.611. After that bottom was put in pace, we started seeing a pullback higher and buyers pushed through the 20 Simple Moving Averages. A possible shift in the market momentum from bearish to bullish was further confirmed with many strong bullish candles driving the price significantly higher to make a higher top.
Although that lasted until yesterday when buyers ran into the 50 SMA (yellow) on this chart, which rejected the price immediately. Today they had another go at this moving average but it held strong once again and the price started to reverse lower. We decided to open a sell USD/JPY signal up there, which is looking good at the moment, with the chart setup forming a bullish reversing pattern after two upside-down hammer candlesticks.