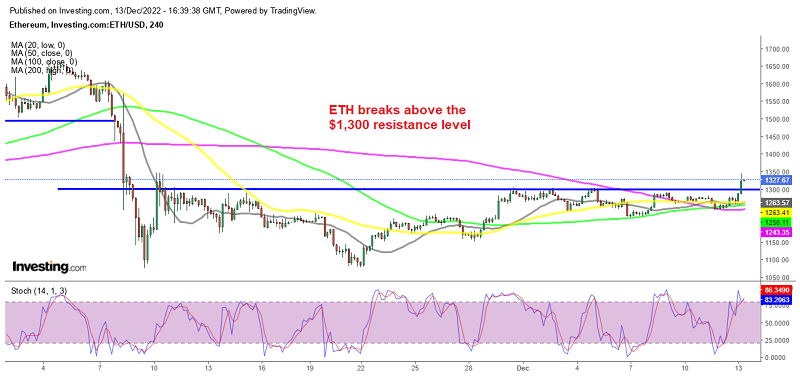 Ethereum (ETH), Dogecoin (DOGE) Jump on Softer US CPI Inflation
This week is very important for a number of major currencies and for risk sentiment in general, as several central banks are expected to continue raising interest rates by 50 basis points (bps) tomorrow and on Thursday, with attention, particularly on the FED's future path. The FED has made it clear that rate hikes will depend on the inflation numbers, so today's consumer inflation report CPI (consumer price index) was really important for the USD and risk sentiment.
The consensus was for a slowdown in November, as Oil prices kept cooling off, with the median expectation at 7.3% for the headline number. The inflation report came out better than expected, falling below expectations which sent the USD around 150 pips lower, while US stock markets opened with a major bullish gap higher.
Dogecoin H1 Chart – The 100 SMA Remains As Resistance
DOGE trades above $0.09
Risk assets jumped higher, with Bitcoin breaking above the resistance at around $17,300 and approaching $18,000, which indicates that buyers are in complete control now. Dogecoin turned bearish earlier this week, as cryptocurrencies retreated but jumped higher today to $0.0946. Although the 100 SMA (green) remains as resistance at the top, so this cryptocurrency is slightly bearish overall.
US November CPI Inflation Report
November CPI YoY +7.1% vs +7.3% expected
October CPI YoY was +7.7%
CPI MoM +0.1% vs +0.3% expected
Prior CPI MoM was +0.4%
Real weekly earnings +0.2% vs -0.1% prior (prior revised to 0.0%)
Core inflation:
Core CPI YoY ex food and energy +6.0% vs +6.1% expected
Prior ex food and energy +6.3%
Core CPI MoM +0.2% vs +0.3% exp
Prior core CPI MoM +0.4%
The previous report surprised to the downside and led to a +7% rally in the Nasdaq and a big drop in the US dollar. This isn't quite as big of a surprise but it's in the same direction. You can argue that the market sniffed this one out with a big rally in equities today and in stocks ahead of this release. There was a suspicious move in S&P 500 futures just before the release, which you can see on the one-minute chart. That's probably just a sign of illiquidity.
Ethereum
The Ethereum Chart at the top of this article is showing bullish momentum instead,  which has been constant sicne the last week of Novmber and picked up pace today after the US CPI report. The resistance zone above $1,300 has been broken and ETH/USD is holding its gains, which is another bullish sign.