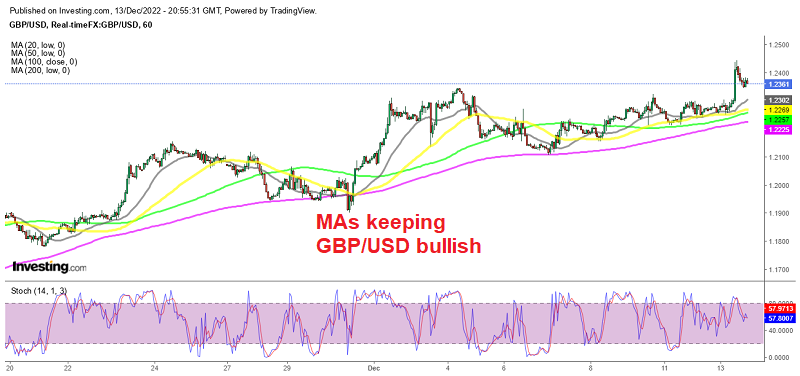 GBP/USD to Remain Bullish as UK Inflation Slows But Remains High – Tomorrow the BOE Hike
Posted Wednesday, December 14, 2022 by
Skerdian Meta
• 2 min read
GBP/USD used to be extremely bearish this year and even crashed toward the end of September as UK gilt yields kept surging, while the USD on the other hand was quite bullish as the FED kept raising rates pretty fast. But, the situation improved considerably after the intervention by the Bank of England, while the FED softened the rhetoric and the USD has turned quite bearish as the FED slows on rate hikes and prepares to stall at some point early in 2023 on slowing inflation.
GBP/USD dipped below $1.03 back in September while yesterday we saw the price jump above 1.24, so this pair has gained more than 20 cents and the prospects look positive for the next several weeks. The BOE should slow as well, but traders are all focused on the FED which is weighing on the USD and if they further confirm slowing down today, then the USD will continue to retreat, which will send this pair higher.
Tomorrow we have the Bank of England meeting which is expected to produce the ninth rate hike in a row, this time at 50 bps after the 75 bps in the last meeting. Although, inflation still remains pretty high in the UK compared to the US, which probably will keep the BOE in a tightening mode.
UK CPI Inflation Report for November
November CPI +10.7% vs +10.9% expected
October CPI YoY +11.1%
CPI MoM +0.4% vs +0.6% expected
October +2.0%
Core CPI YoY +6.3% vs +6.5% expected
October core YoY was +6.5%
Core CPI MoM +0.3% vs +0.5% expected
Prior core CPI +0.7%
The more-than-expected drop in UK inflation is a welcome development but relative to historical prices, this is still a very high reading as it comes off the over 11% reading in the October report. Below is a breakdown of the details:
Of note, transport provided the largest downward contribution to the change in the annual inflation rate, mainly due to motor fuels as energy prices fall off. In terms of BOE pricing for tomorrow, I don't see the report today as being material enough to alter expectations of a 50 bps move.