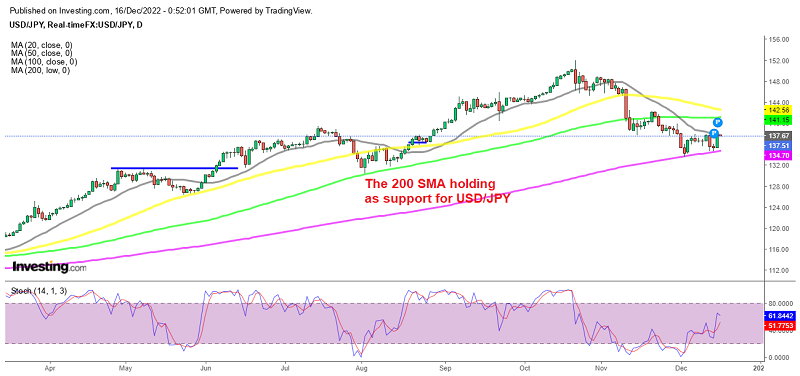 Has USD/JPY Reached A Bottom After the Strong Jump Off the 200 Daily SMA?
USD/JPY used to be extremely bullish earlier this year which continued until the end of September as this pair surged to 152, until Japanese authorities intervened and calmed the situation. The Ministry of Finance of Japan as well as the Bank of Japan have been intervening in the markets buying JPY, which has given support to this currency while the FED has been vocal about slowing down with rate hikes recently which has been dragging the USD lower, hence the decline below 134 in this pair at the beginning of this month.
Moving averages were acting as support during the bullish trend, but they were broken without much fight although the 200 SMA (purple) seems to be holding. It has stopped the decline twice on the daily chart and after Wednesday's doji candlestick which is a bullish signal, we saw a strong jump yesterday, despite markets seeing the FED rate hike as less dovish than expected. Besides that, even Goldman Sachs is turning bullish on the JPY after an almost 20-cent decline which has made this pair oversold.
Goldman Sachs Issues a Long USD/JPY Trade Recommendation
Goldman Sachs likes long exposure in USD/JPY in spot targeting a move towards 143.
Not only is positioning now appearing more neutral, we also see a fundamental reason to expect renewed Yen weakness…The Bank of Japan may also be preparing to shift its current YCC policy at some point next year, which would be positive for the Yen in our view, and our economists now see possible adjustments in 2023. However, outweighing these risks, our rates strategists believe that the sharp downward repricing of medium- and long-run rates for this cycle appears overdone given current data (and our economists' projections) and thus should reverse," GS notes.
"Therefore, we are issuing a new trade recommendation to go long USD/JPY over a 1-2 month horizon with a target of 143 and a stop of 132," GS adds.
Note that the Bank of Japan meets next week, December 19 and 20. The usual nothing burger is expected though as they remain on hold.