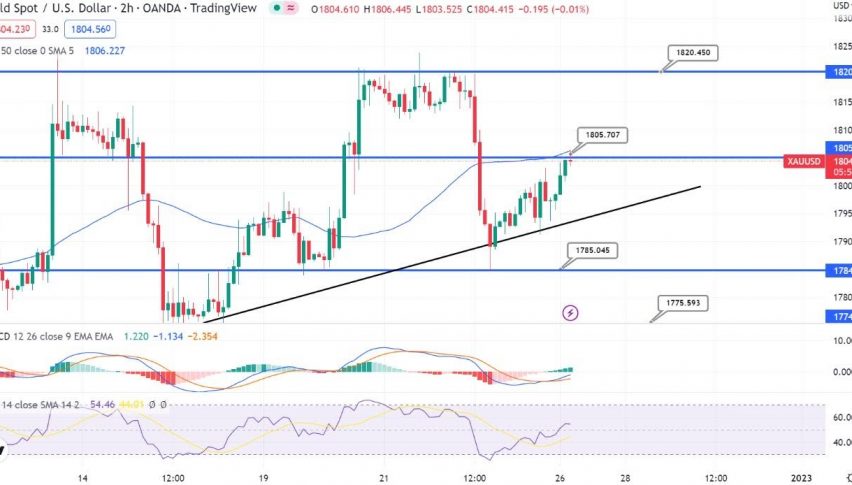 Gold Pumps to $1,805 – 50 Days EMA to Extend Resistance
The gold price has surpassed Friday's high of roughly $1,804.00 and is projected to move above the psychological resistance of $1,800.00 in the Tokyo session. The precious metal XAU/USD is projected to maintain its upward pace as market players' risk appetite improves.
The risk profile has shifted to the positive side, with investors relying on a drop in US inflation ahead, driven by a slowing in the extent of the US Personal Consumption Expenditure (PCE) Price Index. A decrease in consumption expenditure indicates that household demand has been reduced and will be countered by lower pricing for products and services. As a result, the S&P500 recovered on Friday. In addition, a drop in demand for durable goods has bolstered prospects for future inflationary pressures.
Meanwhile, the US Dollar Index (DXY) has fallen abruptly to roughly 103.75 after failing to break through the immediate resistance of 104.00 as a slowdown in family spending may compel the Federal Reserve (Fed) to reduce the interest rate peak ahead. The 10-year US Treasury yield has fallen further to around 3.73%.
Gold Technical Outlook
Gold price is on a bullish run, having soared to $1,805. As long as it is above $1,785, the bullish trend scenario will remain valid today, backed by an upward trendline supporting gold near $1,785. 
The stochastic and EMA50 point to a bullish bias, so if gold breaks above $1,805, it could go as high as $1,820.
Today's projected trend: Bullish above $1,785
Yesterday the CPI numbers from European countries showed a slowdown, so today's headline Eurozone inflation numbers should be soft as well
3 days ago