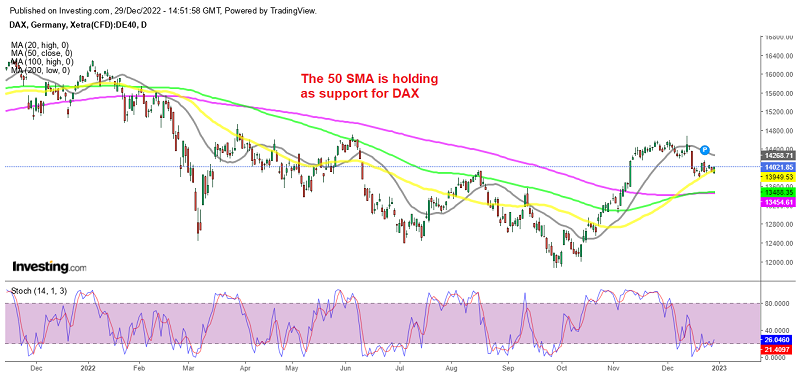 Stock Markets Showing Sime Buying Momentum on A Bearish Trend
Stock markets have been on a bearish trend for most of this year until October, as central banks were raising interest rates at an enormous pace. But, they softened the rhetoric and have already slowed with rate hikes after the 50 basis points (bps) hike from four major central banks earlier this month. That improved the risk sentiment which sent stock markets higher.
But, in the last few weeks, the bullish momentum has ended and stock markets have turned lower again. Yesterday main indices closed lower again as the end of the year approaches. The S&P 500 has formed a double top pattern and it still has room to run to the downside until it reaches the target. Then we will see if it will continue to fall after that.
S&P 500 Daily Chart – The 200 SMA Acting As Resistance
   The target comes at 3,700 points
Today risk sentiment has improved somewhat without any particular reason, although the up and down price action continues, so we're probably in a USD retreat period before the reversal comes, probably tomorrow. The German index DAX30 found support at the 50 SMA (yellow) on the daily chart earlier this month and today we are seeing another bounce higher. So, DAX is looking better than S&P although the ECB is still pressing for further rate hikes, which should weigh on European stocks.
[[DAX30-graph]]
China's manufacturing and services are bouncing in expansion as the grand reopening goes underway, which will help improve risk sentiment
2 months ago