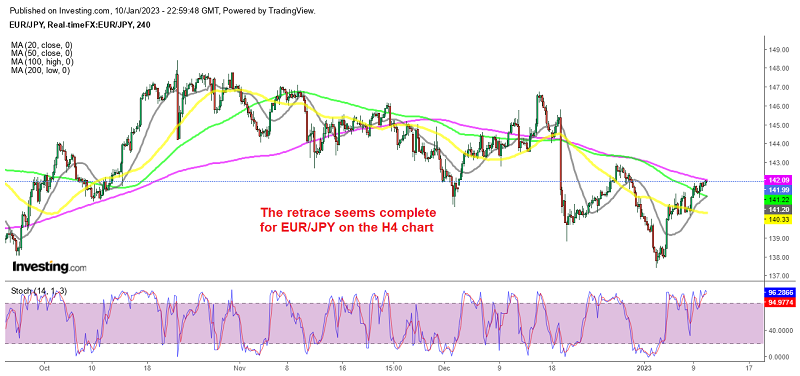 EUR/JPY Likely to Turn Bearish at the 200 SMA, As ECB Slows
EUR/JPY has been bullish since early last year as the JPY was declining on low Japanese inflation, which was keeping the Bank of Japan on hold, while the European Central Bank turned hawkish in July last year, raising interest rates several times until now. But this pair is giving signs of a major trend reversal, as the price falls below moving averages, which seem to be turning from support into reistance. That is a strong bearish sign.
The JPY started 2023 with optimism following a strong performance over the festive season. This change of fortune for the safe haven currency came amid a shift in policy from the BOJ which widened the yield corridor on government bonds. That wasn't much but it was the first step toward tightening the monetary policy and the market took it by storm.
So this new year began in a positive way, with the JPY gaining against the USD. EUR/JPY almost reached the September swing low while USD/JPY dipped below the round psychological 130.00 level. But the JPY has made a retreat after such strong gains and EUR/JPY has retraced higher.
ECB's Mario Centeno Speaking
We are approaching the end of interest rate rise process
Inflation may have some resistance in January and February, but will fall again from March
We are not seeing fragmentation risks in the euro area now
Centeno last spoke on January 6 saying:
Today's inflation data is quite positive
Rates are to rise to the point that it will restore inflation back to 2% target
He tilts toward the dovish side though.