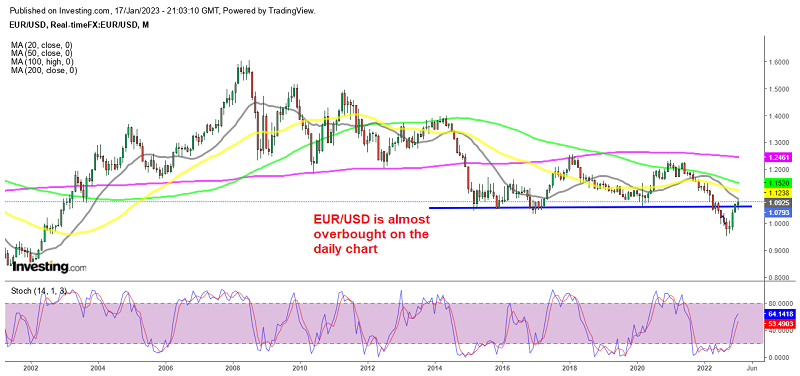 Is the EUR/USD Uptrend Over as the ECB Starts to Slow With Rate Hikes?
EUR/USD fell below parity last year after a strong decline, as the FED kept raising interest rates at an incredible pace, while the ECB started the tightening process pretty late in the summer. But, the FED started to slow already since they started earlier and the USD turned bearish, sending this pair above parity again.
The price has climbed above 1.0850, but it has stalled there for several days, indicating exhaustion and yesterday we saw a reversal and a 100 pip decline, while other risk assets pushed higher. The reason for that was some reports from the European Central Bank which apparently is planning to slow down with rate hikes more than expected.
Policymakers at the ECB are murmuring about a slower pace of interest rate hikes than previously thought, as inflation starts to cool off, 'ECB sources' reported yesterday that says the idea of a slower move in March is 'gaining support' across the member board. ECB president Christine Lagarde kept a hawkish stance at the most-recent ECB meeting which surprised the market, as she indicated a series of 50 bps hikes coming up. But now she might have leaned that back.
Although most of the slowdown in inflation is coming from energy markets which might be misleading for many policymakers. Although, now we'll start comparing to a year ago when prices were surging, so it's likely that the slowdown in inflation might escalate. This means more weakness in EUR/USD, so we are contemplating a long term sell trade in this pair.