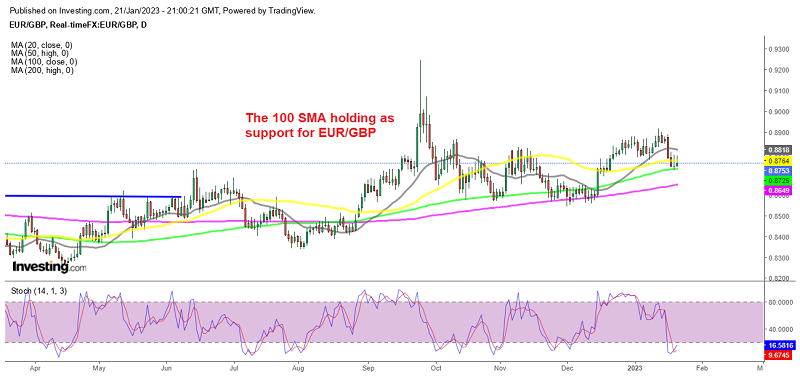 Looking to Buy EUR/GBP as ECB Presses for More 50 BPS Hikes
EUR/GBP has been on a bullish trend since March last year, with the GBP enduring heavier losses than the Euro until late September. Then we saw a surge as the GBP crashed down at the end of September, although the Bank of England intervened and a retreat followed until the middle of December, after the last rate hike by the ECB and the BOE.
The 200 SMA (purple) turned into support in December and the price bounced off that moving average. Last week we saw another retrae lower after the UK CPI (consiumer price incex) oinflation report for December showed a slight slowdown, but it remains in double-diogit levels, while in the Eurozone it has slowed to around 6%.
EUR/GBP retreated around 200 pips lower, having the worst day in at least two months on Tuesday. The price fell to 0.7820s, where the 100 SMA (green) was awaiting, which held the retreat, so this moving average has turned into support. The price formed a doji candlestick on Thursday which is a bullish reversing signal after the retreat and on Friday the price started to bounce off the 100 SMA.
So, it seems like a bullish reversing chart pattern is forming in this pair and we are thinking about buying this pair with a long term trading signal. The ECB is still pressing for more rate hikes, with ECBs Holzmann mentioning several 50 bps hikes in the next several meeting, as we was speaking to the Austrian newspaper Die Presse. Below are his comments:
ECBs Holzmann Speaking to Austrian Newspaper
I expect multiple rate hikes of 50 basis points, at least in the 1H of 2023
Core inflation is above 5%, which is 2 1/2 times our target
there could be rate hikes if headline inflation has fallen significantly, but core inflation has not.
I am reluctant to say inflation has peaked because core inflation has not.
It could take two-three years to bring

inflation

 down to target, or longer
We have turned bearish in EUR/USD as the bullish pressure fading and the price heading for 1.07 now
2 days ago