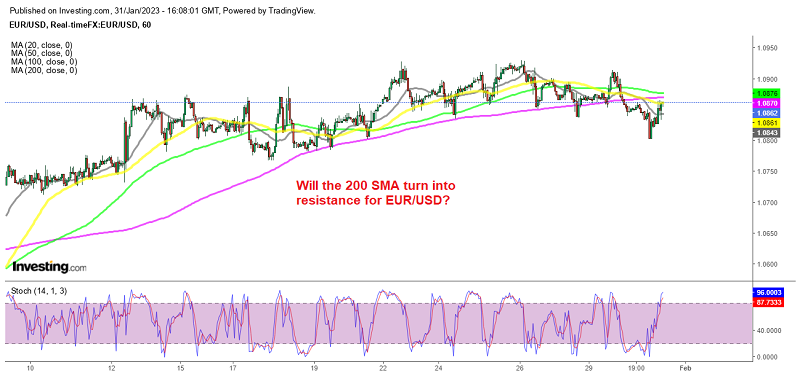 USD Retreating As Earnings Fall in Q4, Ahead of the FOMC Meeting
The USD has been retreating since October as the FED softened up the rhetoric, after being really bullish for most of 2022 ahead of that and the FED was raising rates very fast. The idea is that the FED will slow down and stop with rate hikes soon, probably reversing to rate cuts by the end of the year.
But, since the last rate hike in December, the markets haven't been so certain, since the economic data has been mixed. We have seen some improvement in recent weeks and the USD decline has stopped. Yesterday we saw a bullish move in the USD as sentiment turned negative, but today the sentiment is improving after the US employment const/earnings report, which showed a slowdown in Q4, as shown below:
US Employment Cost Index for the 4Q of 2022
Employment cost index for Q4 1.0% vs 1.1% estimate
Employment cost index for Q4 1.0% vs 1.2% last quarterly
Wages 1.0% vs 1.3% last quarter
Benefits 0.8% vs 1.0% last quarter
In 2022 employment costs rose 5.1% YoY versus 4.0% in 2021
Wages increased by 5.1% YoY versus 4.5% in 2021
Benefits increase 4.8% YoY versus 2.9% in 2021
For the full report click here
EUR/USD has climbed around 70 pips off the lows today. Although moving averages are acting as resistance above, especially the 200 SMA (purple) which used to act as support on the H1 chart above. We opened a sell EUR/USD signal earlier after the report was released since besides the FED this pair has another risk event coming from the ECB meeting on Thursday, which means that gains will be limited.
The numbers are a little weaker than expected and US yields have moved lower with the two-year trading at 4.217%. The 10-year is trading at 3.51% down -4.0 basis points, while stock markets have bounced higher, on hopes that the FED will be less hawkish as earnings decelerate. However, 1.0% still is relatively high from a historical perspective. Pre-pandemic, the numbers were south of 1% on a regular basis. Inflation is lower but is still relatively elevated.