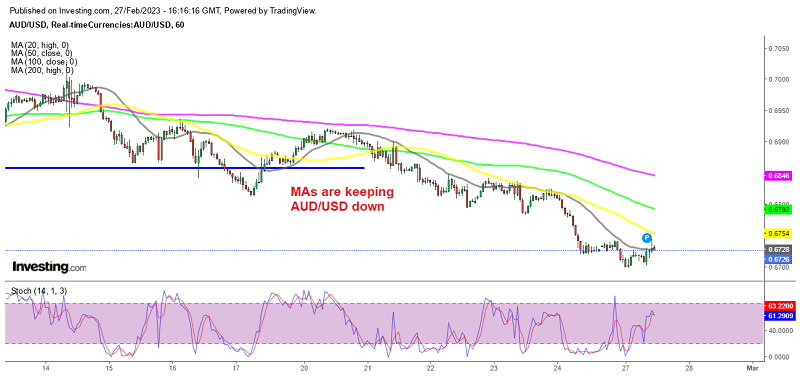 Shorting AUD/USD After the Jump on US Durable Goods Orders Decline
The USD has been bullish the entire month, as the data shows a decent bounce in the US economy, which justifies the FED to continue raising interest rates further, with inflation also losing the pace of slowing down. There have been several important economic reports this week, most of which have been positive and today's durable goods figures released a while ago were expected to fall by 3.7%.
Traders have been intensely focused on the data, which indicates the path of the economy. So the market reaction to the economic data has been stronger than in normal times. Today's durable goods orders posted a major decline for January, although markets were already anticipating a big decline this time and durable goods orders are volatile too, so it's difficult to get a proper sign in all the noise. Besides that, markets are getting increasingly comfortable that manufacturing is not picking up the same as the rest of the economy.
US January Durable Goods Orders
January durable goods orders -4.5% vs -4.0% expected
December orders were +5.6%
Durables ex transportation +0.7% vs 0.0% expected
Prior ex transportation -0.1% *(revised to -0.4%)
Capital goods orders non-defense ex-air +0.8% vs +0.1% expected
Prior capital goods orders non-defense ex-air -0.2% (revised to -0.3%)
The bolded line of capital goods orders is what really matters and it is showing a healthy 0.8% increase, despite the decline in the headline number. It's a good forward-looking sign for manufacturing activity, so the report is not so bad after all.
The USD has been bullish all month as we mentioned above, closing last week near the highs as well. After today's durable goods orders release, we saw a dip in the USD, which sent risk assets higher, with EUR/USD climbing around 9-0 pips off the lows. AUD/USD gained only about 40 pips, which makes the Aussie the weakest among risk currencies and given that the capital goods orders posted an increase, we decided to sell the bounce on this pair and now it seems like the jump is over and sellers are coming back again.