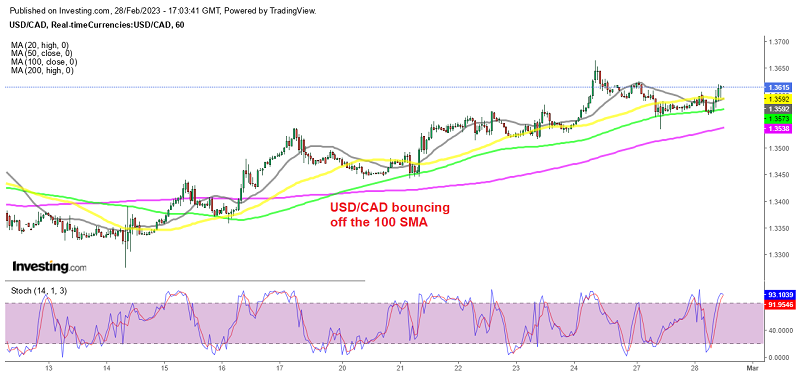 USD/CAD Resumes Uptrend as Canadian Economy Slows
USD/CAD has been bullish since the beginning of this month and resumed its uptrend as the Canadian economy shows signs of slowing down. The USD has been weak today, but this pair has resumed the bullish momentum after a retrace lower, which shows that the CAD is probably the weakest currency today.
There are several factors contributing to this trend. Starting with the most recent news, the Canadian economy has been struggling due to a slowdown in the housing market and lower oil prices. These factors have impacted the economy negatively, leading to a weaker Canadian dollar.
Besides that, the US dollar has been strengthening due to a more optimistic economic outlook and a potential continuation of rate hikes by the Federal Reserve. This has made the US dollar more attractive to investors, leading to an increase in demand for the currency.
As a result, the USD/CAD pair bounced off the 100 SMA (green) on the H1 chart earlier today and is expected to continue its uptrend in the near future, with the US dollar likely to gain further strength against the CAD. We are looking for a retreat lower, so we can open a buy USD/CAD signal.
Canadian Fourth Quarter GDP Annualized
Q4 2022 GDP 0.0% vs +1.5% expected
Prior was +2.9% q/q annualized (revised to 2.3%)
GDP q/q not annualized 0.0% vs +0.7% prior (revised to +0.6%)
December GDP % m/m -0.1% vs 0.0% expected
Prior m/m GDP +0.1%
December GDP % y/y vs +3.93% prior
Final domestic demand +0.3% q/q vs -0.2% prior
Business spending on machinery and equipment -7.8%
Net trade cut 1.455 points from GDP
January advance GDP +0.3%
This is the first report on Canada's Q4 GDP, which provides an idea of how the economy was performing at the beginning of the year. However, recent data from January and February suggests that the economy has been performing strongly, which will be a factor for the Bank of Canada to consider at its meeting next week, especially given the positive preliminary January numbers.
Despite this, the weaker Q4 GDP number has eliminated the 9% chance of a rate hike that was previously priced in for March 8. Taking a closer look at the report, it shows that Q4 inventories were lower, which may be more of a temporary blip than a significant signal. However, the weaker business investment figure is a more concerning aspect of the report.