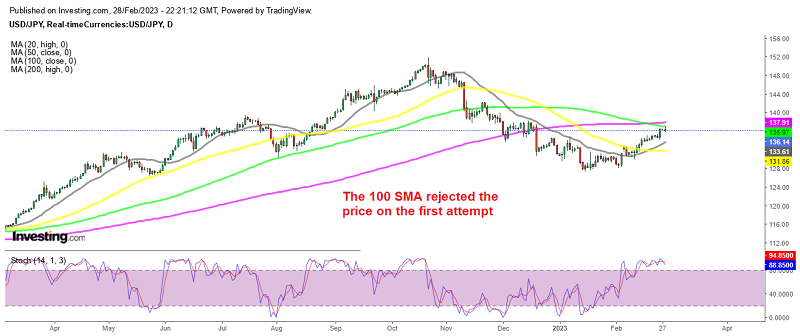 Major Test in USD/JPY, With Ueda Expected to Tighten Slowly
USD/JPY has been bullish since the middle of January, after the bearish momentum ended and the USD started to reverse higher. The price has rallied around 9 cents higher as the risk sentiment softened on improving economic data in the US. That should have been positive for risk in normal times, but at the moment it means that the FED will continue raising interest rates, which is negative for risk sentiment.
The 20 SMA (gray) which was providing resistance during the downtrend was broken and the 50 SMA was broken as well on the daily chart, but now comes the 100 SMA (green). That moving average stopped the climb yesterday and we saw a retreat from there. The daily candlestick formed a doji, which is a bearish reversing signal after the surge and the stochastic indicator is severely overbought on this timeframe.
 Besides that, Ueda who is expected to be the new Bank of Japan governor is expected to start a slow tightening cycle, which would be bullish for the JPY and bearish for USD/JPY . So, the chances are that we might see a retreat on this pair, although it remains to be seen if the trend will change. Societe Generale Research discusses the BoJ policy trajectory under the Ueda regime.
"The CFTC has had a data issue and hasn't been updating position data but we now have figures for the end of January. Yen positioning was still short at the end of January (when USD/JPY had broken below 130). Yen buying probably wasn't by speculators but by hedgers of foreign bond holdings. The traders aren't convinced. Maybe the February data will see that lack of conviction in the idea of a BOP pivot translate into selling as USD/JPY has risen.
Either way, we now wait for the Ueda regime to start, and make its first move," SocGen notes.
"Our team in Tokyo's updated thoughts for BoJ scenarios under Ueda: a very gradual tightening of monetary policy'. A widening in the trading band for JGBs to ±100bp at the June BOJ meeting would be 'sold' as not being policy tightening but our best guess is that the market will buy the yen anyway. But June's a long way away and for now USD/JPY is once again responding mostly to US Treasury yields. The market has ow priced in a good but more Fed tightening than it had at the end of January but it's unlikely to turn around until we get some softer data," SocGen adds.
Core PCE inflation ticked higher to 4.7% this month, which should keep the FED hawkish and the USD bullish
3 days ago