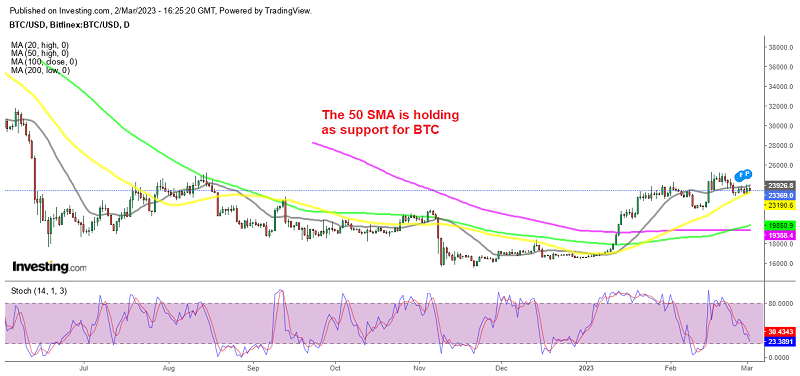 Buying Bitcoin BTC as the Lows Keep Getting Higher
The bearish momentum of 2022 came to an end and cryptocurrencies turned bullish in with the start of 2023, making some decent gains in January, as the USD declined while risk sentiment improved. Bitcoin peaked above $25,000 last month, although buyers were unable to hold gains above that level and the buying pressure faded eventually.
The price retreated lower as USD  buyers came back last monmth and risk sentiment started to deteriorate, asa result of better economic data from the US. This would be positive for risk in normal times, but right now it means that the FED will continue raising interest rates, which might hurt the global economy eventually.
Although, cryptocurrencies have held better than other risk markets during last month and they conitnue to make higher lows. In the first half of February BTC/USD retreated after reching $24,000 but tghe lows remained above $20,000. Now, after retreating from above $25,000 BTC is holding above $22,000. The price held around the 200 SMA (purple) once again on the H4 chart, and now BTC has increased above $23,000.
Bitcoin H4 Chart – Buyers Are Coming Back After the Retreat
The lows in Bitcoin not running far below the 200 SMA
We heard that Bitcoin bulls have placed most of their options at $24,500 or higher for the March 3 options expiry. However, regulatory pressure on the crypto sector increased, and despite no effective measures being announced, investors became wary and reactive to remarks from policymakers.
The stricter stance from the macroeconomic and crypto regulatory environment caused investors to rethink their exposure to cryptocurrencies, and as a result, Bitcoin's price decline practically extinguished the bulls' expectation for a $24,500 or higher options expiry on March 3. Therefore, their bets are unlikely to pay off as the deadline approaches. We still have one day left and we might see a jump, but BTC would have to gain more than $1,000.