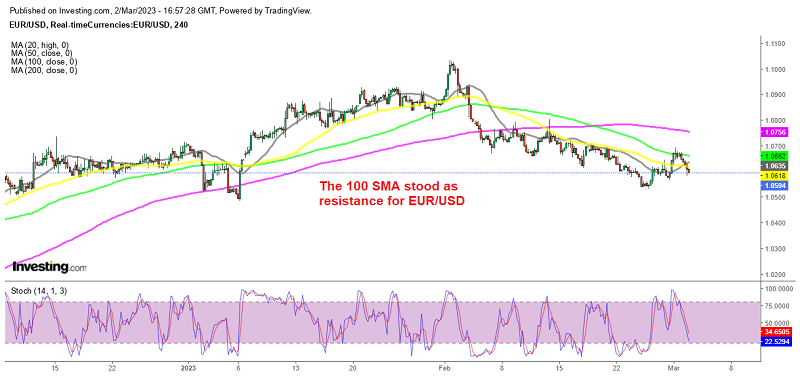 AUD, Euro Resuming Decline Despite Higher Eurozone CPI Inflation
EUR/USD turned bullish this week, after being bearish since early February on improving US economiuc data, which has raised odds for higher FED terminal rates. Risk sentiment has deteriorated as central banks pick up the hawkish rhetoric again, although earlier this week this pair moved more than 100 pips higher as the USD retreated lower.
But now sellers ahve returned and are pushing the price lower. The 100 SMA (green) was piercedon the H4 chart, but there was no continueatin above and EUR/USD returned back down pretty fast, which was a bearish signal. The price formed a doji candlestick above there, indicating a bearish revesal while the 100 SMA held as resistance and eventually the price reversed back down.
In early european session we had the consumer inflation report from the Eurozone, which was epxected to show a slowdown, but inflation increased instead. Headline CPI moved a tick higher to 8.6% in February from 8.5%, while January was also revised higher to 8.6%. Core CPI on the other hand, increased from 5.3% last month to 5.6% this month, whcih will continue putting pressure on the European consumer.
Latest Data Released by Eurostat – 2 March 2023
February preliminary CPI YoY +8.5% vs +8.2% expected
January CPI was +8.5% (revised to 8.6%)
Core CPI YoY +5.6% vs +5.3% expected
January core CPI was +5.3%
Headline annual inflation may have eased slightly compared to January, even if it did beat estimates, but the main takeaway here is that we are seeing yet another surge in core annual inflation instead. The latter is seen increasing to 5.6% last month and this will just vindicate the more hawkish talk by ECB policymakers.
ECB President Lagarde Commenting on Inflation
Price decline is not stable
Inflation has slowed in the last three months but risen a bit in February
We are sure prices will go down but inflation is still too high
Bringing down inflation will take some time
This is mainly just to reaffirm her previous remarks. For now, the ECB is standing firm on the message that March will be a 50 bps rate hike and what comes after could be a similar move or perhaps a 25 bps one, but they won't give anything away just yet.