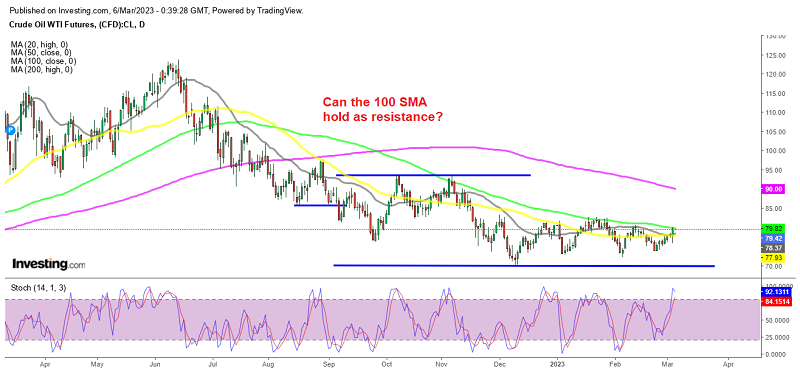 Crude Oil Testing the 100 Daily SMA Again, After A Strong Close on Friday
Crude Oil has been on a berish trend since March last year and it continues to make lower highs as the 100 SMA (green) keeps providing resistance on the daily chart. But, the lows are getting higher as well and last Friday we saw a really strong close as the price of US WTI crude bounced nearly $4 higher, from below $76 to almost $80, forming a bullish candlestick.
Oil prices experienced an initial decline of over $2/barrel following a media report on Friday that the UAE was considering leaving OPEC and increasing its Oil production. However, prices bounced back up when other sources with direct knowledge informed themedia that the report was not true.
That camer on news that Saudi Arabia anounced a price increase of European and Asian customers, showing that the OPEC cartel is still deiding on prices arbitrary. That was a strong bullish signal, while the other bullish signal came from the EIA inventories release, which showed another major buildup, but crude Oil remained bullish nonetheless, although the U.S. Energy Information Administration (EIA) blamed under-reported output for high adjustments in US data
Last week, EIA stated that crude oil blending and under-reported oil output were the primary reasons for the recent high adjustment figures in the weekly oil inventory data. To address this issue, the EIA plans to modify its surveys to obtain more precise crude output data and change its accounting methods for crude oil blending. Joe DeCarolis, an official with the EIA, confirmed these changes via Twitter.
Another reason for the bullish momentum in Oil last week was the positive data from China. In February, the service sector activity expanded at its fastest pace in six months, while manufacturing activity also grew. Furthermore, China's seaborne imports of Russian oil are expected to reach a record high this month.