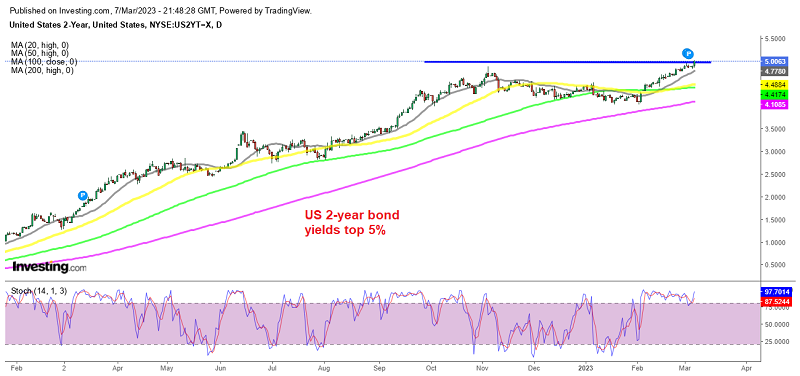 Risk Assets Bearish As US 2-year Treasuries Break the 5% Milestone
US 2-year bond yields have experienced an enormous surge since the end of 2021, when they were trading at around 0.50%. Now, they have broken above 5%, which is an important target, increasing around 10 times or 1,000% in a little more than a year. Markets were in doubt in the last couple of weeks, as the economic data has been sort of mixed, although leaning more toward the positive side. Yesterday Powell made some hawkish comments, which sent the USD and Treasury yields surging higher.
FED Chairman Jerome Powell has hinted that the pace of interest rate hikes may pick up, leading to a jump in Treasury yields, particularly the 2-year bond yields. They approached 5% and broke above this level without much resistance from sellers, which is the highest level since 2007.
This incredible bullish run comes after the FED has hiked rates by 4.50%. Markets are pricing in a 55% chance of a 50 bps rate hike to a range to 5.25% on March 22, with expectations that they will continue to hike them further to at around 5.75% by November. The MOVE index, a measure of expected Treasury price volatility, is also near its high for the year, having risen by around 30% since the beginning of February.
According to analysts, the prospect of higher interest rates for a longer period of time is likely to negatively affect both the stock and bond markets. Even though many traders were sort of expecting something like this, hearing it directly from Powell makes it more significant than just inferring it from the available data.
This should be bullish for the USD, and yesterday we saw a strong surge, while risk assets tumbled lower. Now, we are looking to sell retraces higher in Gold or AUD/USD, as sentiment remains bearish. Although, we will still be cautious as more fresh economic data is coming up from the US this week, including February's jobs report on Friday.