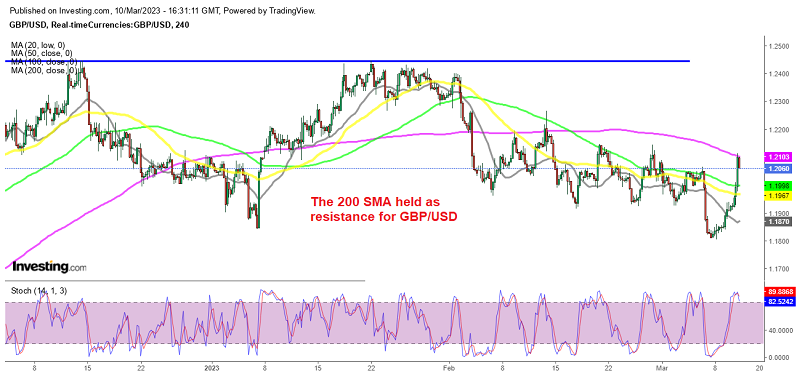 GBP/USD Breaks the Pattern of Lower Highs After the UK January GDP Report
GBP/USD turned bearish in February as the USD reversed higher after being bearish since October, and on Tuesday we saw a sizable decline in this pair, after Powell's comments that rates could go up to 5.75%. The price fell to 1.18 lows, but yesterday we saw a decent retrace higher, pushing the price around 130 pips up. Markets have been very sensitive to economic data and central bank commentary.
While comments by FED Chair Powell about the Fed's decisions being guided by data have kept some market participants optimistic, overall there seems to be a lack of conviction, especially after yesterday's somewhat softer employment numbers.
However, the ADP numbers released on Wednesday showed a decent bounce last month, while January was revised higher, suggesting that we may see a positive Non-Farm Payroll (NFP) print, which would add weight to the possibility of a 50 basis points hike at the next FED meeting in two weeks. The USD index was slightly weaker yesterday, which also helped GBP/USD ahead of today's NFP data and UK GDP report which is shown below. This pair continues to make lower highs, despite the recent retrace so sellers remain in control.
UK January GDP Report
January GDP MoM +0.3% vs +0.1% expected
December GDP MoM was -0.5%
GDP 0.0% vs 0.0% 3m/3m expected
Prior GDP 3m/3m was 0.0%
Despite the slight beat on the monthly figure, UK GDP was flat in the three months to January 2023. Looking at the details, the services sector grew by 0.5% (+0.43% contribution) while production output fell by 0.3% (-0.04% contribution) and construction activity down by 1.7% (-0.10% contribution) on the month.