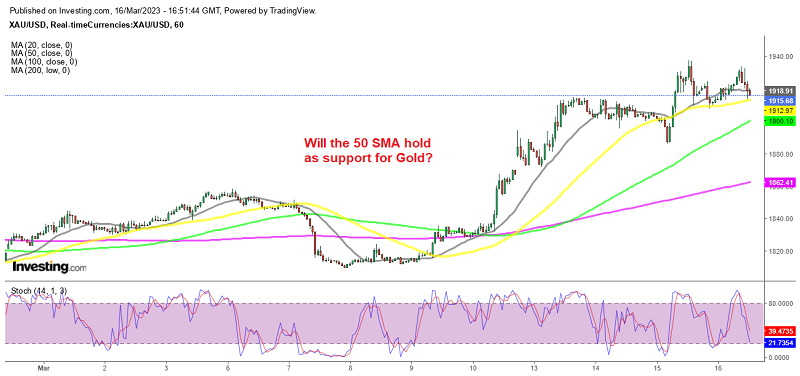 Buying the Retreat in Gold
Gold has turned quite bullish since Thursday last week after the failure of the SVB bank and today, the price of Gold was showing bullish momentum again during the European session after the retreat overnight, which we caught with two sell Gold signals. XAU/USD surged to its highest level since early February, following ongoing concerns about the banking crisis in the US first and now in Europe.
This comes after the European Central Bank decided to hike interest rates despite the financial instability risks. Spot Gold gained 0.5% to reach $1,927 per ounce, after peaking at $1,937 yesterday. Meanwhile, US Gold futures also rose by 0.1% to $1,933.
The price of
GOLD
has been fluctuating in response to the recent decision by the European Central Bank to hike the Refi rate by 0.50%. Initially, there was a drop in the price of gold, which tested the $1,926 level before rebounding and reaching $1,932.50. This suggests that the market is uncertain about the impact of the interest rate hike on Gold, although at the moment all the attention is on the banking crisis.
The current focus in the market is on the banking sector crisis, which is providing support to the price of gold. As a result, global yields are expected to decrease due to anticipation of less hawkish sentiment surrounding the Federal Reserve.
Credit Suisse which is a major Swiss bank, has announced that it will borrow up to $54 billion from the SNB to strengthen its liquidity and investor confidence, following a sharp drop in its share prices on Wednesday by as much as 30%. While this news has helped to ease some of the heavy selling in Asian markets, overall market sentiment remains fragile.
Besides that, the European Central Bank has reportedly reached out to banks under its supervision to assess their exposure to Credit Suisse. We have been mostly long on God for a week, although last night we opened a couple of sell Gold signals as the price was retreating lower, which closed in profit.
Now we shifted position and opened a buy Gold signal after the latest retreat to the 50 SMA (yellow) which is acting as support. Meanwhile, crude Oil remains bearish and we have been selling retraces higher on US WTI crude after the break of the support zone around $70.