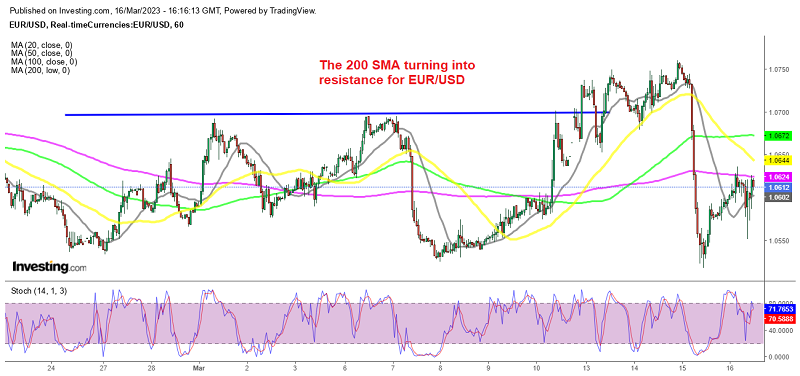 EUR/USD Uncertain Where to Go Next After the 50 bps ECB Hike
EUR/USD turned quite bearish yesterday, mainly driven by concerns about banking vulnerabilities in the EU, ahead of the European Central Bank's rate decision today. The market expectations for the rate decision were divided between a 25 bps and a 50 bps hike, with recent banking and financial market concerns dampening the hawkish expectations following a 50 basis point increase.
From a technical perspective, the EUR/USD rose overnight after the crash yesterday and extended its gains up to the 200 SMA on the h1 chart, which stands at 1.0633, before reversing lower again. This forex pair fell just above yesterday's low end of a key swing area between 1.0573 and 1.0585, which may act as a support level for the currency pair. The price is still targeting the 200 SMA (purple) as buyers return, but it is worth noting that market events and conditions can be highly volatile and subject to rapid changess.
Highlights of the ECB Interest Rate Decision
Main refi rate at 3.50% vs 3.00% prior
Inflation projected to remain too high for too long
Raises interest rate on marginal lending facility to 3.75% vs 3.25% prior
Deposit facility to 3.00% vs 2.50% prior
Elevated level of uncertainty reinforces importance of a data-dependent approach to ECB policy decision, which will be determined by its assessment of 

inflation

 outlook in light of incoming data and dynamics
Inflation ex food and energy continued to increase in Feb and staff expect average of 4.6% in 2023, higher than Dec forecasts
Forecasts done before market turmoil
Headline inflation expected to average 5.3% in 2023, 2.9% in 2024 and 2.1% in 2025
Banking sector sector is resilient, with strong capital and liquidity positions
Policy toolkit is fully equipped to provide 

liquidity

support to Eurozone financial system if needed
Growth forecast of 1.0% in 2023, 1.6% in 2024, 1.6% in 2025
There's no signal on future policy here, which is understandable but the market would have liked something dovish to go with 50 bps. The euro fell about 20 pips lower on the headlines while stock futures have sagged.